We are so excited to share this holiday with you!
This 13 day Sri Lankan adventure includes our favourite places and a fabulous mix of wonderful experiences for you and your family. Emmie and I are so excited to be there to look after everyone as we adventure together.
Who should join us:
Do you want to spend more time with your kids?
Want to bond over shared experiences in a beautiful palm-filled country?
Like the beach, ancient temples and unique landscapes?
Keen on seeing elephants in the wild?
Want your kids to have other kids to play with while you enjoy an afternoon refreshment?
Do you want to have the best holiday ever?
Then this trip is for you!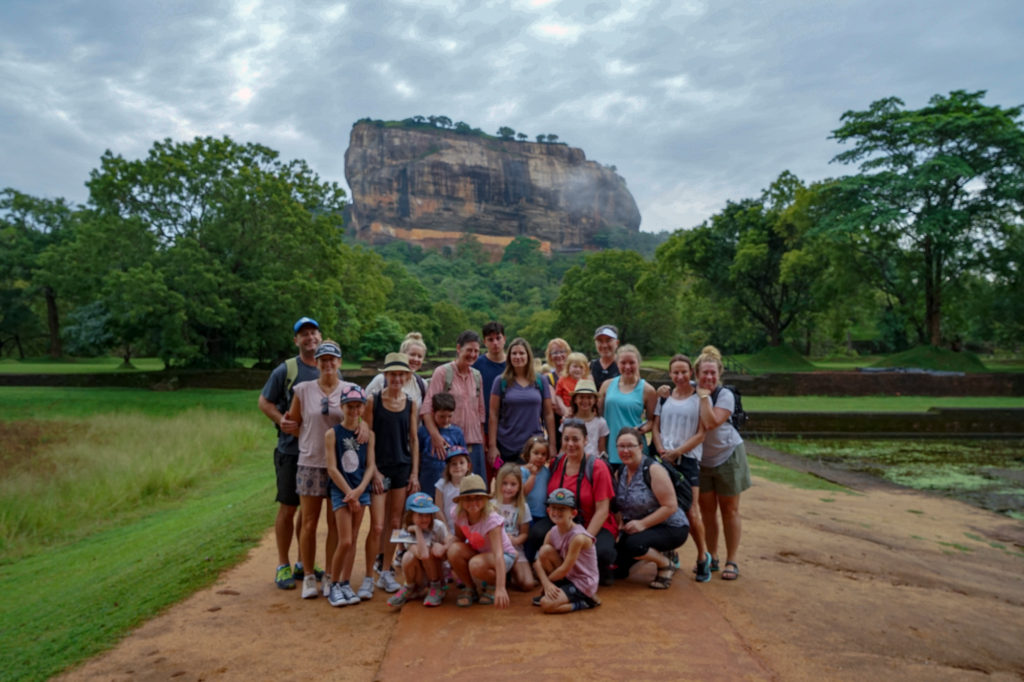 Our first family trip in January! So amazing
Our fam holidays is for adults and kids who want to have an fabulous time together, exploring a new country and sharing amazing experiences.
Does that sound like you? I hope so cause we are going to have the BEST time. Emmie and I love Sri Lanka, and Carlie and her family have spent a lot of time there – her husband is Sri Lankan after all. Our plan is to give you a fabulous 13 days of adventures and learning about Sri Lanka while we handle all the plans and transport leaving you to just enjoy yourselves.
We can't wait for you to join us as we share our most favourite parts of one of our favourite countries.
Now, kids do need to be around five and older.
If you have a few kids and one of them is under five that's okay, but with the walking and bus-time we have (it's not really a lot but would be for small kids) it's best for this age.
We're also planning some retreats for mums and kids where we will offer a fabulous cultural and adventure program but with a villa base and a focus on working in with the things that smaller kids need like routine, nap times and babysitters.
When is it?
We have two trips in April:
Saturday 31 March  – Thursday 12 April
Saturday 14 April – Thursday 26 April
What we will see:
I can't wait to share the friendly, laid back Sri Lankan culture with you – you can't help but relax under the beautiful blue skies and the gorgeous palm trees that are everywhere.
We will explore Sri Lanka's beautiful countryside, watch families of elephants graze and play at Minneriya National Park, visit a tea plantation, ride the famous Sri Lanka train from Kandy to Ella, learn how to cook Sri Lankan cuisine, climb Little Adam's Peak and wander the train tracks at the Nine Arches Bridge. We'll also climb Sigiriya, the city built on top of a massive rock, visit the Temple of the Tooth in Kandy and have lunch at the Botanic Gardens.
We will spend lazy days on the coast – swimming, snorkelling and learning to surf, and our last day will be spent in Colombo before flying home happy and in love with this amazing country.
All land costs are included in our price – land transport, two meals per day and accommodation, and every activity listed. And we have a few little extras added in there too.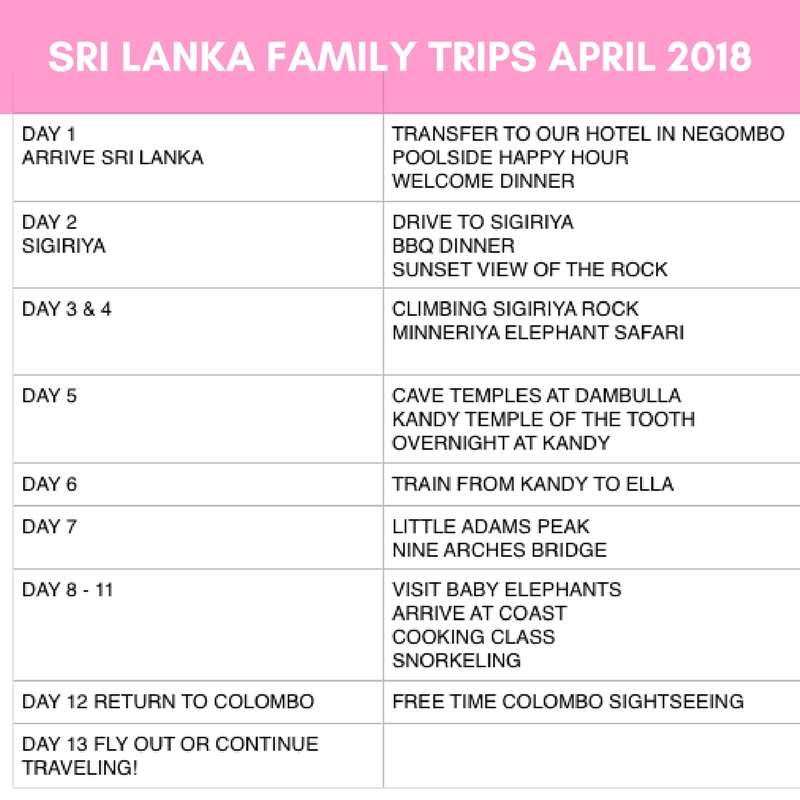 WHAT IS INCLUDED?
Once you land in Sri Lanka almost everything is included:
Airport transfers
12 nights accommodation in three and four star hotels
Transport in a luxury bus with lots of room (we got a bigger bus)
Two meals per day – 13 breakfasts, 13 dinners and snacks
Activities like:

climbing Sigiriya
the elephant safari at Minneriya
the incredible scenic Sri Lanka train ride
tea plantation tour

All entrance fees to national parks, temples and places of interest.
Plus lots of other fun activities and special surprises for the kids to enjoy.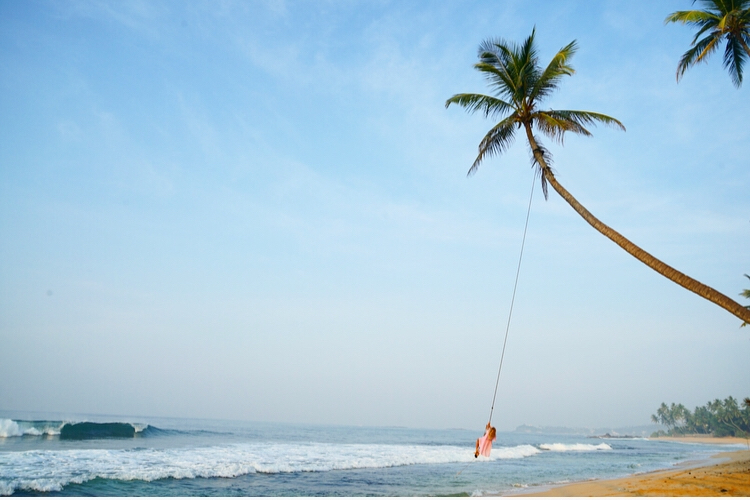 Is this for real? Yep! We stay just down the road in Unawantuna
FLIGHTS:
We've left the flight bookings to you – but we can book your flights for you if you wish. We recommend checking Air Asia as they have a fabulous network of flights from across Asia and into Colombo and are affordable, safe and punctual. You can find comparison flights and times on Skyscanner.com
You MUST arrive in Colombo, Sri Lanka before your tour starts – just let us know your arrival time and Emmie and I will be there to pick you up.
Once the tour finishes you can fly out at any time although afternoon is best if possible. Or you might wish to stay longer! I would 🙂
VISAS:
Organise your visa in advance here. Children under 12 are free but you will still need to complete a form for them. The visa costs $35 US per adult and is cheaper and easier than on arrival.
INSURANCE:
Everyone who comes with us must have travel insurance. I recommend Cover-More insurance – I've used them since 1997 when I first went backpacking and they've always been amazing with help and quickly paying claims. You can use any insurance company you like – just make sure you read the information and make sure you're well covered.
You can organise your insurance with Cover-More here. Please read our Terms and Conditions to ensure you have the best cover as we need everyone to be secure and protected on our trip. The Cover-More links here are affiliate links which means we might earn a small commission if you book through the link but it won't cost you extra. Whether you use our link or not (no pressure) I still recommend Cover-More as the best!
COST:
Families come in all shapes and sizes and we are going to cater for everyone. Everyone is welcome!
Please contact Carlie using the form below and she will tailor the quote for you based on your fam.
TERMS AND CONDITIONS:
Super important – please read our Terms and Conditions  here.
For more information fill in this form and Carlie will get back to you with a quote.