Yangshuo is a tiny ancient town perched under conical karst mountains and alongside the softly flowing Yulong River in southern China. It's a stunning joy-filled treasure and is one of our spirit towns – places we arrive at and immediately feel a vibe, a sense of belonging and a connection to the area, the people and landscape.
I actually cried in the taxi as we left Yangshuo, the only time in our 17 months on the road. I felt like I needed to stay longer and we really should have – this place got right into my heart.
For the four days we were in Yangshuo we were guests of the Yangshuo Mountain Retreat. There are two properties – the Mountain Retreat is on the Yulong River river and its sister property the Yangshuo Valley Inn is only 20 minutes into town by bike. Both are so beautiful and the authentic buildings are styled locally and have such a sense of home and comfort that as soon as you arrive you feel at peace. The food is delicious, the rooms are carefully decorated and appointed – modern yet incorporating traditional touches like artworks and carved furniture. The staff are generous with their time and so helpful and kind, as we find over and over again in China. I just loved it there so much and felt so at home.  It's a place I want to return to.
So I will tell you straight up – you must go to Yangshuo in China, and when you do you must stay at the Yangshuo Mountain Retreat! It's popular so make sure to reserve your room in advance so you won't be disappointed! And we might see you there – we will be returning, and that is a promise.
Here's all about our time in Yangshuo, the Farmhouse at the Yangshuo Village Inn and the Yangshuo Mountain Retreat and why it is such a special place for us.
We arrived in Guilin after an overnight train from Zhangjaijie to Shenzen and then another train to Guilin. We then had an hour long taxi ride from Guilin to Yangshuo. We were pretty tired and so we were thrilled to arrive at the Yangshuo Village Inn – a boutique guesthouse in Yangshuo town.  We were welcomed with snacks and tea before being shown into our beautiful mud brick suite in the old Chinese farmhouse.
There are four rooms in the Farmhouse with a small common area with complimentary drinks and a small food preparation area. The stone walls are hung with local pictures, there is fresh fruit in a bowl on a beautiful table and a lot of traditional and local touches like the gorgeous lights on the high ceiling.
The Yangshuo Valley Inn is all about sustainability, tradition and authenticity. There are no straws here and water is provided in glass jars to reduce single use plastics. Our room had two big comfy beds and a day bed, with a small entry way with toilet, bathroom and change room.
We washed the trains and taxi dust off us in a beautiful warm shower, ate a delicious pasta lunch from the house restaurant and then decided to climb Moon Hill. Moon Hill is a famous mountain with a natural arch through the middle. It's so beautiful to look up at from Yangshuo and you can climb up too. It's not a difficult climb although it can be a little slippery on the pathway during the colder months due to moisture and moss, so be careful. There's a lovely view over the valley and from the top and then you can walk through the hole and around the back for another view through it and to take some pics.
You can buy lovely strawberries and fruit on the roadside and there are lots of local restaurants. Elderly ladies sell fresh flower garlands that most people wear in photos in front of Moon Hill and on bamboo rafts heading down the river.
The restaurant at the Yangshuo Valley Inn, Luna,  is so good. It's an Italian restaurant but you can order traditional meals in such a beautiful spot up on the rooftop overlooking the town. We ate there for dinner, watching the sun go down over the Moon Hill mountain and rooftops. It was just so beautiful, a moment to take a snapshot of in my mind and freeze in time.
Emmie had green beans and pork – her favourite – and xiaolongbao, and I had a delicious soup and sneaked some of her soup dumplings.
We then had a great nights sleep and a delicious breakfast before heading down to the Clear Water Caves where we toured the brightly lit tunnels and caverns, swam and slid in a mud bath and lay in a thermal pool. Super fun and a must-do!
Then, it was time to move to the Yangshuo Mountain Retreat – and I never have a kicked myself more for missing a train.
We arrived in Yangshuo a day late because I messed up our dates and so our time here was cut short. If you're coming to Yangshuo, I recommend booking in here at the Yangshuo Mountain Retreat for at least three nights. It's one of the best places we've stayed at on our travels – for many reasons, but mostly because of the vibe, the feeling of joy and of feeling at home. There's a really happy community feeling from all the guests who sit outside on tables and chairs on the river, watching people on bamboo rafts going past and enjoying the sunshine and the beauty of nature all around you.
Its location is just fabulous. The hotel is on grounds right on the Yulong River, with rooms and dining areas having the amazing views of the famous karst mountains and with an outdoor dining area with lounges, picnic tables and little nooks to sit and eat and drink and enjoy the nature around you. In summer months you can swim and float on tyres in the river – we have to go back just to experience this!
From the hotel you can access riding and hiking trails that meander through fields and villages. The hotel has complimentary bikes – including kids size bikes and tandems –  and the staff will show you many paths you can take.
There is coffee in the restaurant but if you're a takeaway cup loving, mocha addict like me, just down the road at the bridge there is a little cafe called The Face that makes really yummy coffee.
Our room.
It was just gorgeous with a huge window facing the river and Karst mountains – we could see them even when laying down, it was such an incredible view. The rooms are lovely and well equipped and the hotel itself is just gorgeous in a modern yet rustic style that feels incredibly homey. Touches like the open fire, comfy lounges and bookshelf are perfect in the cooler months for some warmth and relaxing, and the separate open bar and lounge area at the edge of the property overlooking the river is another great spot for chilling.
Food.
The food here is absolutely delicious.  We ate so much and it was all fabulous – local produce cooked in-house by locals. I love my chilli so I got stuck into local cuisine while Emmie devoured tuna sandwiches and chips and tomato soup
We ate in the dining room and also outside at one of the picnic tables overlooking the river, waving to tourists on their bamboo rafts as they floated past.
The bamboo rafts on Yulong River are in my opinion much more fun and authentic than those in Guilin where they are motorised and rush up and down. Here in Yungshuo you take a raft with two little seats and place your shoes on the chairs with you as the rafts are actually make of bamboo poles tied together, so the water can come up and through the gaps in the bamboo.
Then with your young captain you sail down river over rapids and under mountains The view is spectacular and it's just SO MUCH FUN. At the first big rapid enterprising locals have set up a photo printing machine so say Cheese! Your driver will stop for you to buy your photo if you wish. You can read all about our bamboo rafting here.
Another stand out for us was the evening light and song performance that takes place in a natural karst mountain amphitheatre. Oh my gosh i have never been so overwhelmed with beautiful voices, light story and song. It was amazing. Emmie loved it too and please don't miss this when you are there.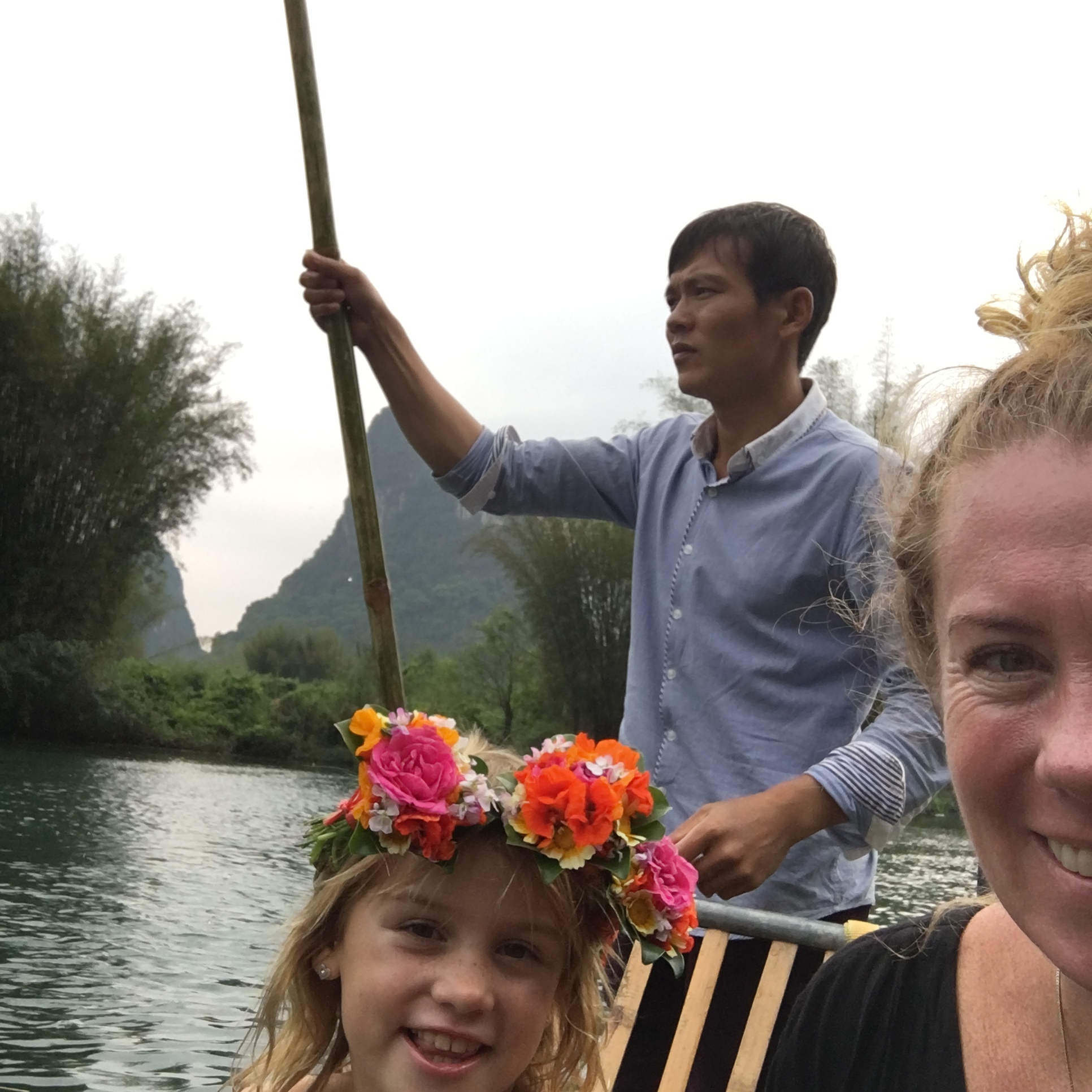 There are many other activities to do here in Yangshuo as well as lots of relaxing and lazing by the river – we needed more time and so will be returning as soon as we can- in warmer months so we can swim in the river – to spend a week or so in this idyllic place.
And don't worry if you can't speak the language, you'll have no trouble communicating in Yangshuo, especially at the Yangshuo Mountain Retreat and Yangshuo Valley Inn. If you're traveling elsewhere in China this post will help – it's all about how we communicate in China when we don't speak the language.
Getting there and away
We traveled by train from quite far away but it's easy to fly into Shenzen and train and then either catch a boat down river or ask the Yangshuo Mountain Retreat to send a car for you. You can also fly directly into Guilin. While you're in China make sure to look around – here's our top 10 places to visit in China with kids.
Find hotels in China here and find flights here
China visa
We've written this post about getting your China visa in Kuala Lumpur. The process is very standard wherever you are – we've also gotten our visa in Phnom Penh and friends got theres out of country in Saigon. It's fairly straight forward as long as you follow the instructions and provide all the info you need. Check out our post for a guide.
Prices
Click for for prices at the Yangshuo Mountain Retreat on booking.com
Click here for prices at the Yangshuo Village Inn on booking.com