Emmie and I visited China three times while we were traveling, and we loved every visit. Its natural beauty, friendly people and busy, lovely character surprised us and showed us a different country to what we were expecting.
China is fabulous for kids. Emmie had so much fun and we loved everything from the Avatar Mountains, to bamboo rafting in Yangshuo to seeing pandas in Chengdu. You should definitely take your kids to China – read our favourite things to do in China with kids. 
While we were in Beijing I booked us on a trip with China Hiking – an overnight camping adventure on the Great Wall of China. We went to a remote spot and hiked up to the wall, carrying our tents and necessities and spent the night on top of an ancient watch tower.
It remains a highlight of our adventures so far.
Here's our top reasons why you should do it too:
1. An awesome adventure:
It is really the most incredible adventure – and hiking up to the wall along small worn pathways through the forrest is a fabulous start. We carried our own gear,  but water is delivered to the campsite (one man, one backpack, one massive hike – totally impressive). After climbing for three hours we then walked along the wall for another two hours, looking at the different sections, the parts that are falling down, the bricks, the curves, the angles and gazing at the wall unfurling in front of us, and behind us – so incredible. The walk is challenging enough to make you appreciate the adventure and the wall itself is more fascinating than you could imagine.  We were really well looked after on this trip – with a fresh meal cooked for us on the wall when we reached our camping spot, and marshmallows for the kids to toast on the fire. I can still see it in my mind now, it was truly an amazing adventure.
2. It's beautiful. Night time on the wall is quiet and peaceful yet heavy with the weight of an incredible history – Genghis Khan, Chinese dynasties, Mulan…China has so much natural beauty to offer tourists and the Great Wall in a remote forest is a crazy visual collision of man-made wonder and beautiful nature. It's definitely something to write home about.
3. Once in a lifetime. Camping on the Great Wall of China is an adventure of a lifetime and one something that is different and unusual to any other kind of China experience. How many people do you know who've slept on the Great Wall? Chances are, not many.
4. It's authentic and tourist-free: It's remote, quiet and magical – and that's so important. Many people who visit China simply take a quick tour package out to the rebuilt wall at the tourist area at Mutianya. They climb up, and then slide down beside the wall on a toboggan! On this trip we went to a remote part of the Wall and we didn't see any other people the whole time.
5. Sleep on a watchtower under the stars. You can see the stars through your tent when you sleep on top of one of the original watchtowers. The sky in Beijing isn't too clear even on a good day, but just a two hour drive away on the Great Wall at Jiankou you can lay in your tent on a watchtower on the Great Wall of China and watch the moon and stars pass you by.
6. Great for kids and families. It can sometimes be difficult to engage kids in history, but Emmie was the one who asked for see the Great Wall after watching Disney's Mulan. With its incredible stats – like being 2300 years old for example, and 21,000 kilometres long – the adventure to get there and the incredible camping spot – it's easy to excite and engage children. This is definitely a trip for families.
7. A sense of accomplishment. Completing a three hour almost vertical hike up to the wall will give you a huge feeling of accomplishment and make the overnight stay even sweeter – it was a fabulous bonding trip for me and Emmie.
8. We all love fun facts. There are lots of fun facts to learn while you rest and chat with your guide over dinner cooked on the Great Wall. Rice glue and wolf poo are my two favourites. The wall is held together by a white rice glue concoction, and back in the day when armies were spotted approaching wolf poo was burned to alert the soldiers on other watch towers and send a message to mobilise the army. Wolf poo is the uber smoke maker of all poo. I didn't know that. There's so much to learn!
9. The Great Wall feeling.  It's hard to describe how overwhelming the experience was for us. It's so peaceful up there and there is a strong, almost heaviness of history that we felt. It's so very quiet on the Wall, its fascinating to think about the guards who kept watch from the tower, how they lived every day and how they felt, watching for the enemy and being so isolated. It's an almost spiritual experience.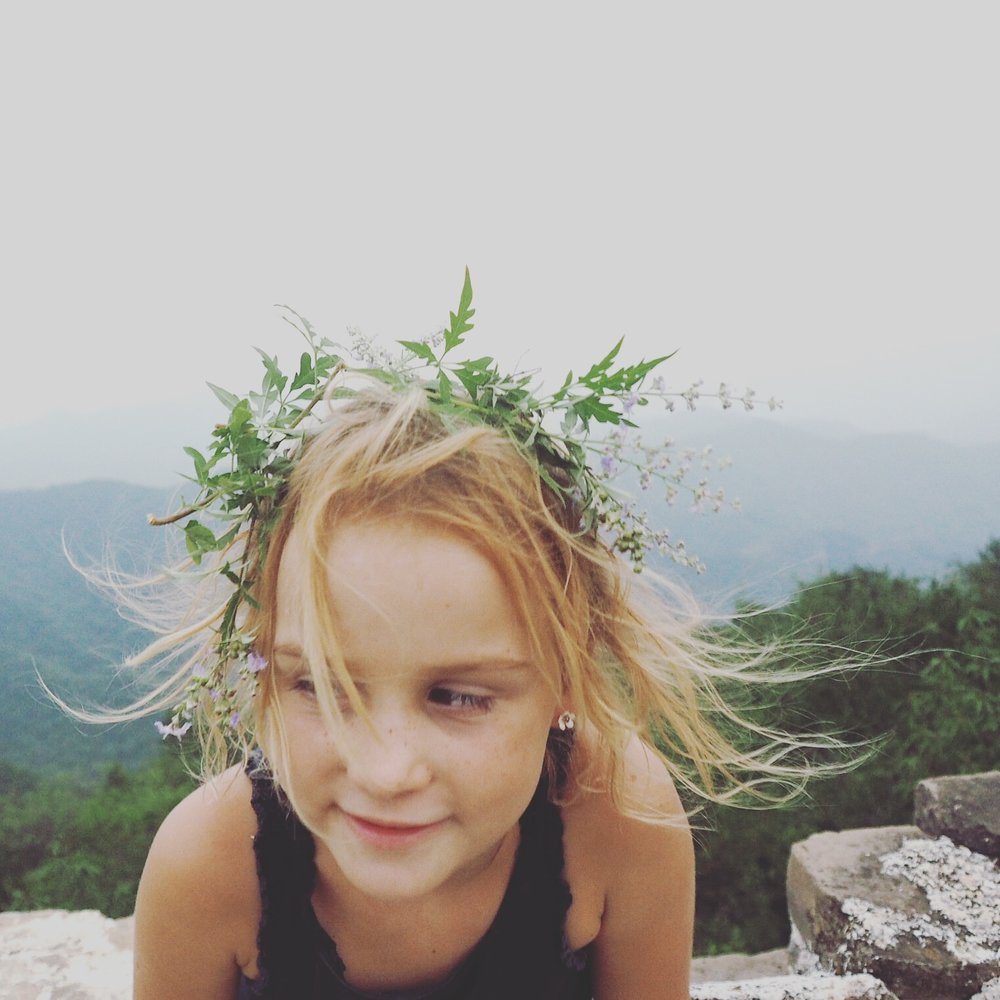 10. Best experience ever. Pitching a tent, sleeping on a watchtower, watching the sun set and rise over the Great Wall of China, falling in love with the history and the majesty of the Chinese dynasties, the beauty of your surroundings and the absolute amazingness of doing something like this – it's truly an adventure that you have to experience to see and feel for yourself. Make sure you do.
If you fancy something authentic but a little less strenuous make sure to check out the Jinshanling Great Wall section.
We booked our trip with China Hiking. Co-owner Heidi was our guide. When you travel to China make sure to get a VPN so you can access the internet. Read all about it. 
Find hotels in China here and find flights here
While you're in Beijing you can check out Chinese medicine and get treated at a traditional clinic – read Barbara's experience here. I'll definitely be checking this out next time we are in town.