Garry Robinson from  www.biketrail.info loves cycling and sharing awesome rides for families. He shares more than 20 safe and fun bike rides to do around Sydney on his website, and other gems like rail trail rides around Australia.  
I love this story! Who is coming with me to ride the Otago rail trail in New Zealand? 
It was September last year and I got a call from a friend. Would you guys (that's our family) like to go to New Zealand and ride bikes on a rail trail mid-December with two other families? "How far ? " I asked. "About 35km a day" was the answer. So, I went and asked around the family and got one yes and two zeros and I was still undecided. Asking teens for approval is generally not a good plan.   I looked into the holiday further and I decided that it was time to get fit so two of us were going. This is a rundown of a holiday that our family and two others decided to attempt last year on the Otago Rail Trail, located 100 odd kilometres from Queenstown in New Zealand.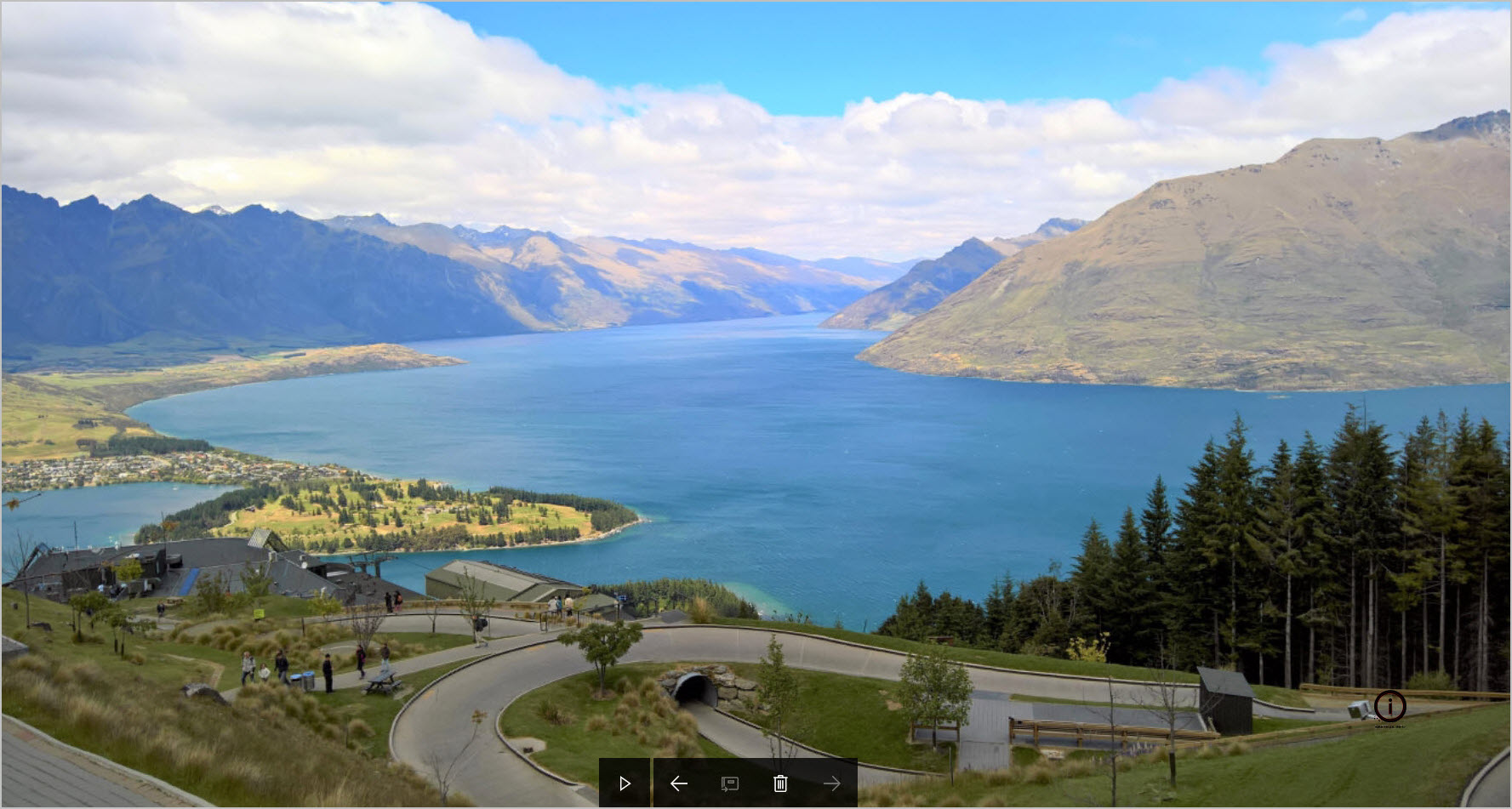 Before we start, a bit of background on a rail trail cycling holiday. Because a train line has its own 15m wide almost straight line across the world, you do not have to think about cars very often. Another feature of train lines is that trains generally do not like to go up steep inclines. Instead the tracks like to meander through the valleys rather than go straight up and over the hills. This characteristic is particularly good for the family bike riders. So, on a rail trail, you remove the tracks, make sure the surface is packed and smooth and anyone with a moderate level of fitness and ability can make good progress every day. The Otago does this really well.
Next thing to consider on cycling holidays is getting the bike to the trail. Unless you run a Tour de France cycle team, doing this overseas is too complicated. The easy solution is to pay one of the many companies that service the Otago trail to sort out your bike needs. They will pick you up at the airport in Queenstown and take you to the start of the trail, you cannot ride to the trail. They then measure you up and the next day you will jump on your bike, load up a few essentials for the day and head off down the trail. The tour organizers will put all of your bags in a trailer and will store them at the next hotel for you when you get there. We used Cycle Surgery and they were very professional.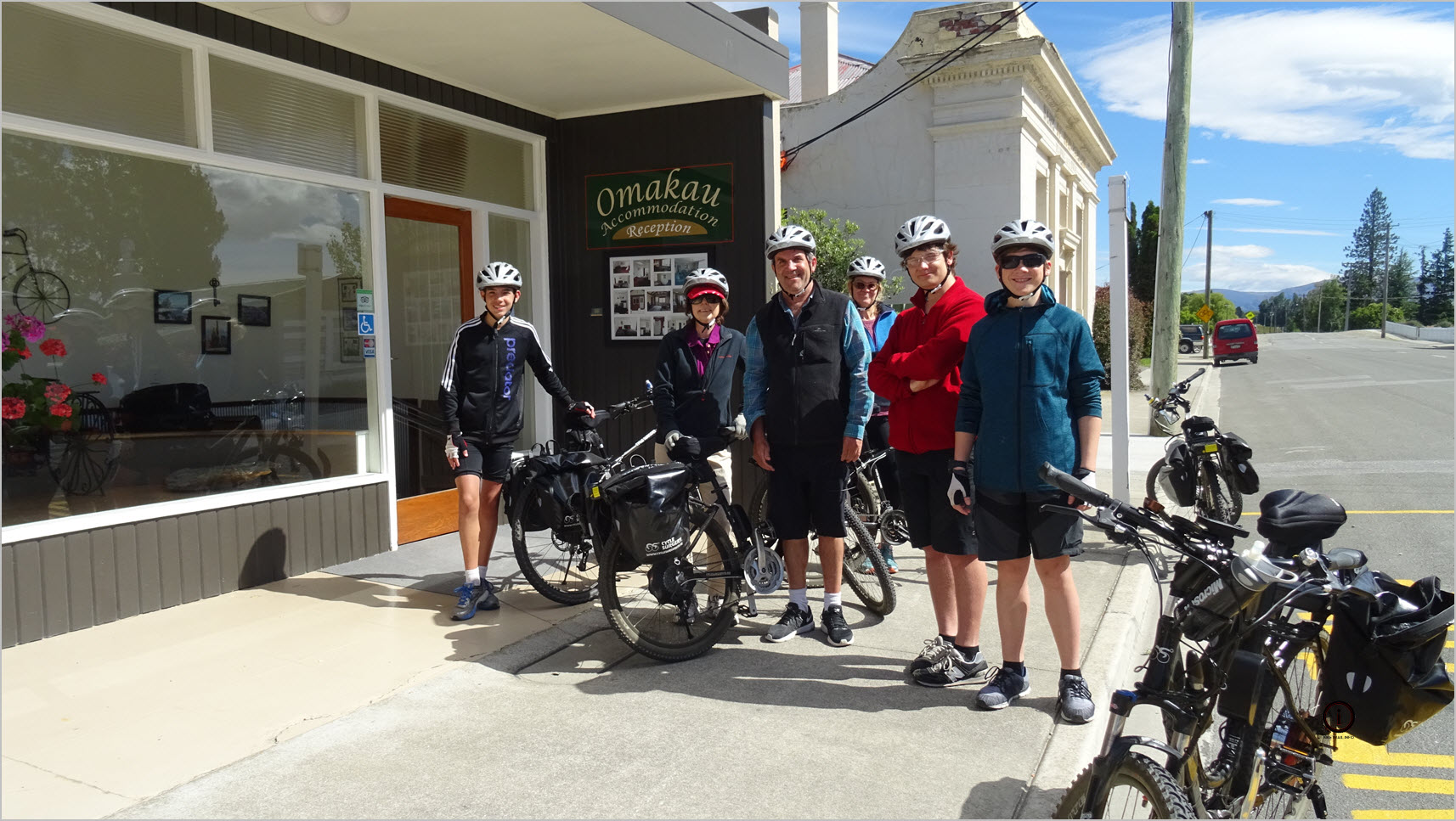 As you read the article, refer to the pictures enjoy the pictures, going back over my collection, it was hard to find a picture I didn't like.  I have put a lot more of the pictures on my website.
Day 0:
The other two families arrived in Queenstown on different days to soak up some of the Queenstown fun. James and I got off the plane, walked out the door and jumped in the Cycle Surgery mini bus to Clyde.  90 minutes later we were at our hotel which was a neat little unit. We explored the town, got measured up for the bikes and then all gathered for a great meal at a local garden bar. The first of many great meals.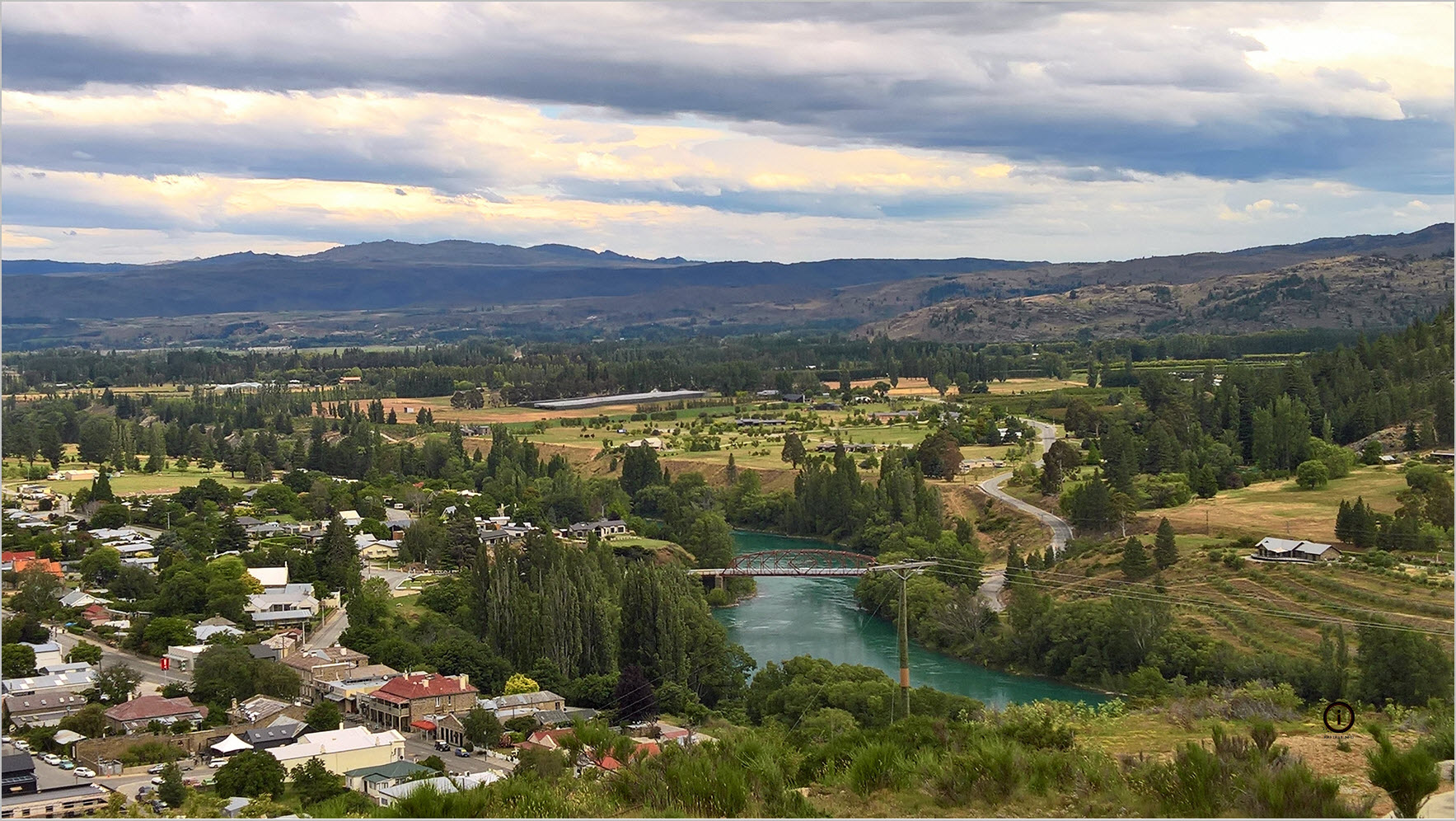 Day 1:
Breakfast was in a super old brick shed and then it was time to go. At this stage it became clear, getting teenagers organised for a 9am sharp departure was not going to be easy. For one the tour organisers were very clear, tell us the number of bags that you have and their weight. At the last minute, two teens decided to pack the equivalent of an encyclopedia set for reading just in case there was no Wi-Fi which there was. So, they had to spend 20 minutes reorganising everything into different bags. Even after we departed, one mobile phone was left in a room. The bike people sorted that out for us. This drama happened every morning, leave at 8:30 sharp and roll onto the track finally at about 9:45 in the heat.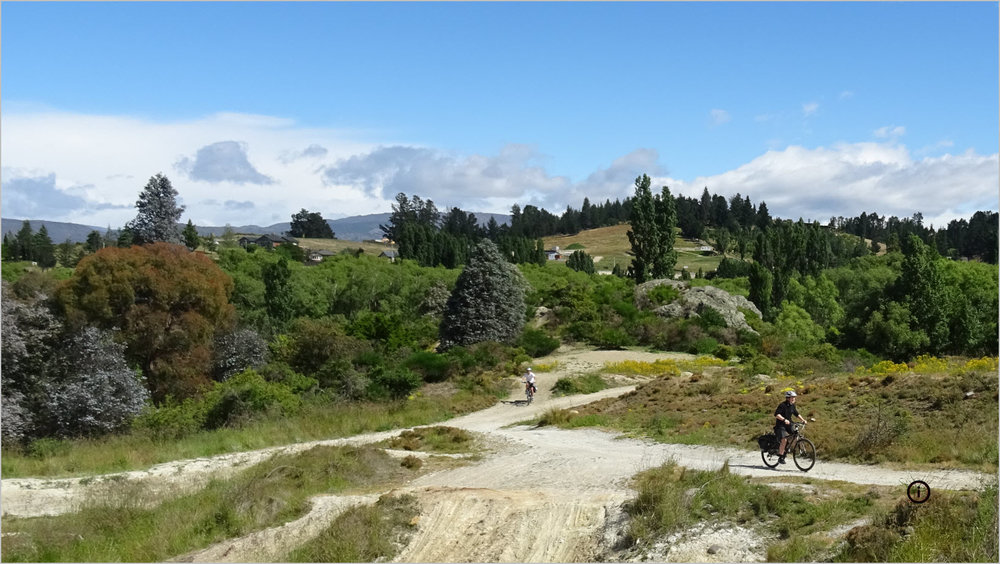 We then road to Alexandra a grand total of 10km. We had arranged with everyone to stop there for lunch. The teenagers after 5km of riding decided a race was on and belted through Alexandra. I caught up with them 2km on the other side of town trying out a mountain bike area. I rounded them up we went back for a late morning snack.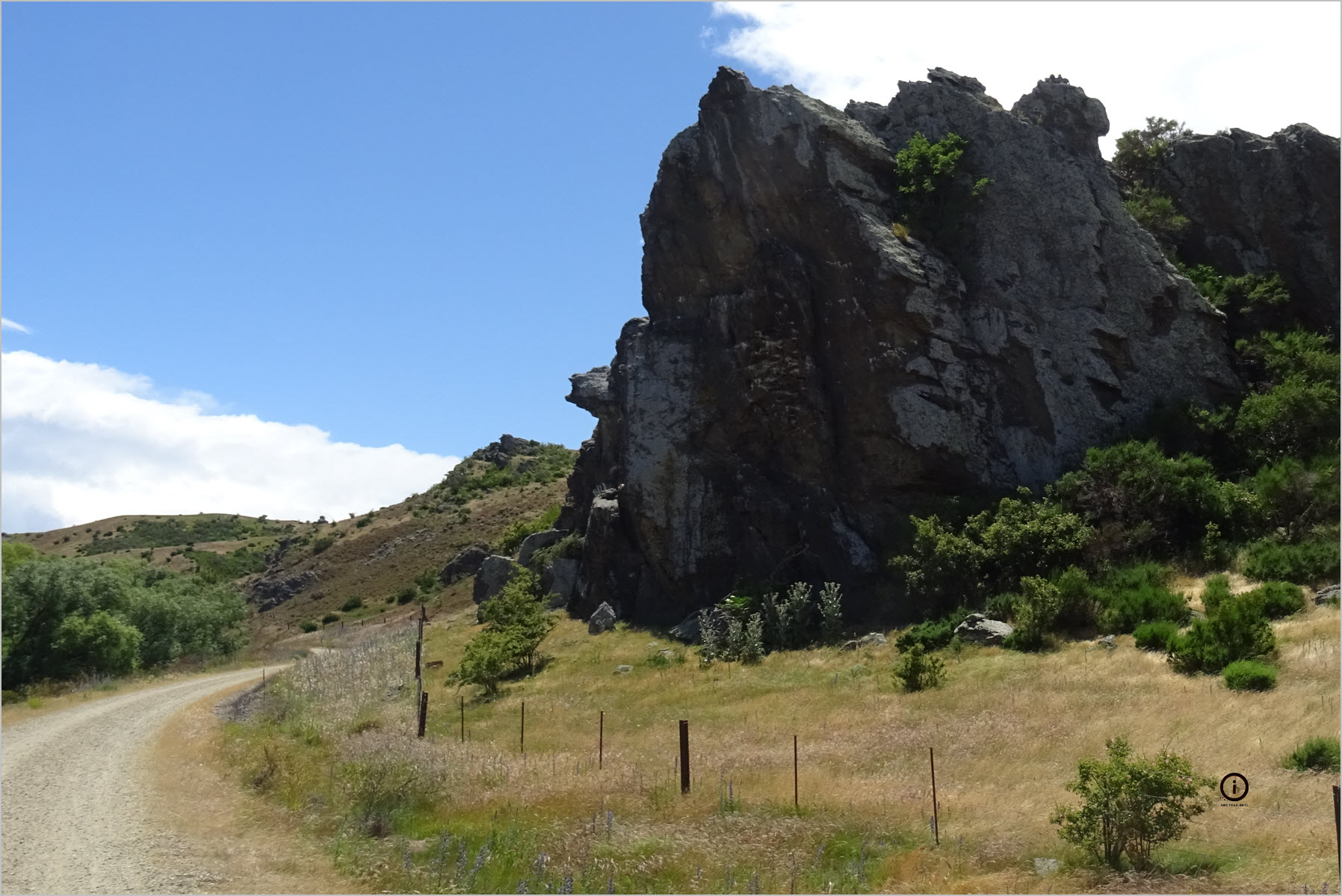 We headed to Chatto Creek down the side of a river and had a super lunch at the pub which was the only place in town. We met the lost teen on the way sitting under a tree reading one of his huge books. From the pub, we had to climb the only significant hill on the trail, Tiger Hill. The gradient is 2% so its not a lot. I had to climb the 200-metre hill elevation over a distance of 5km. I gritted my teeth and pushed on to the top. I wasn't happy when an eleven year old went casually by. Everyone had a siesta and most made it to dinner though my son slept till 9pm. We were exhausted.
Day 2:
We rolled out of town about 90 minutes after "the leave at XX:XX sharp time". What a fantastic day's travel through farmlands, a long tunnel and a bridge or two. Most of the time we were a long way from the highway so it was just us and the crunch of gravel under the tires. We passed by two or three towns all day and they were very small. Usually we wolfed down lots of well-deserved coffee, milkshakes and a cake or two.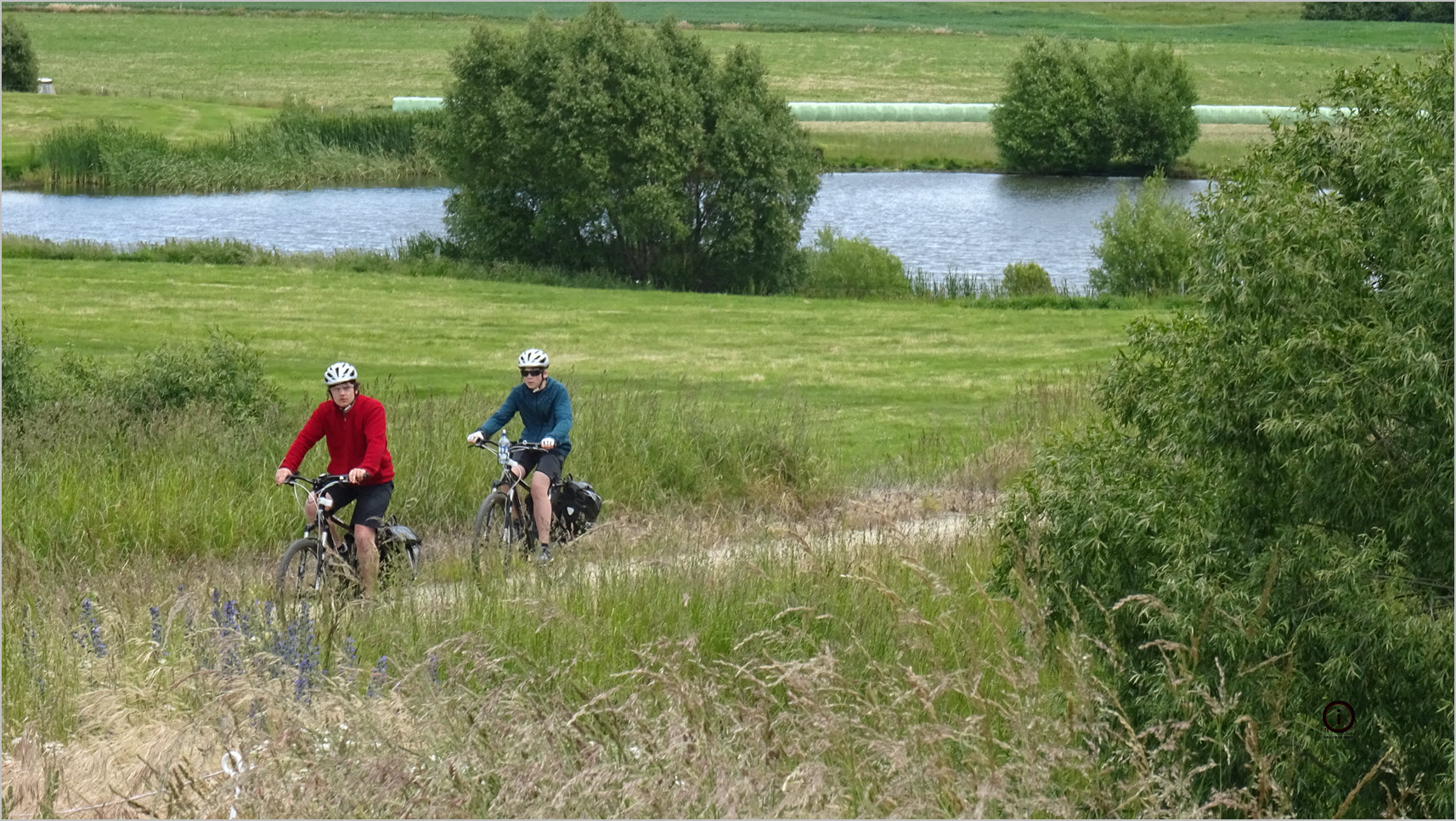 I should mention at this stage that it rarely rains in southern New Zealand in December. Your main precautions are drying out of the skin from the wind. In December, it is likely the wind will behind you if you start at Clyde. That night we had a great meal at the Wedderburn pub, a couple of cleansing ales and a wine or two.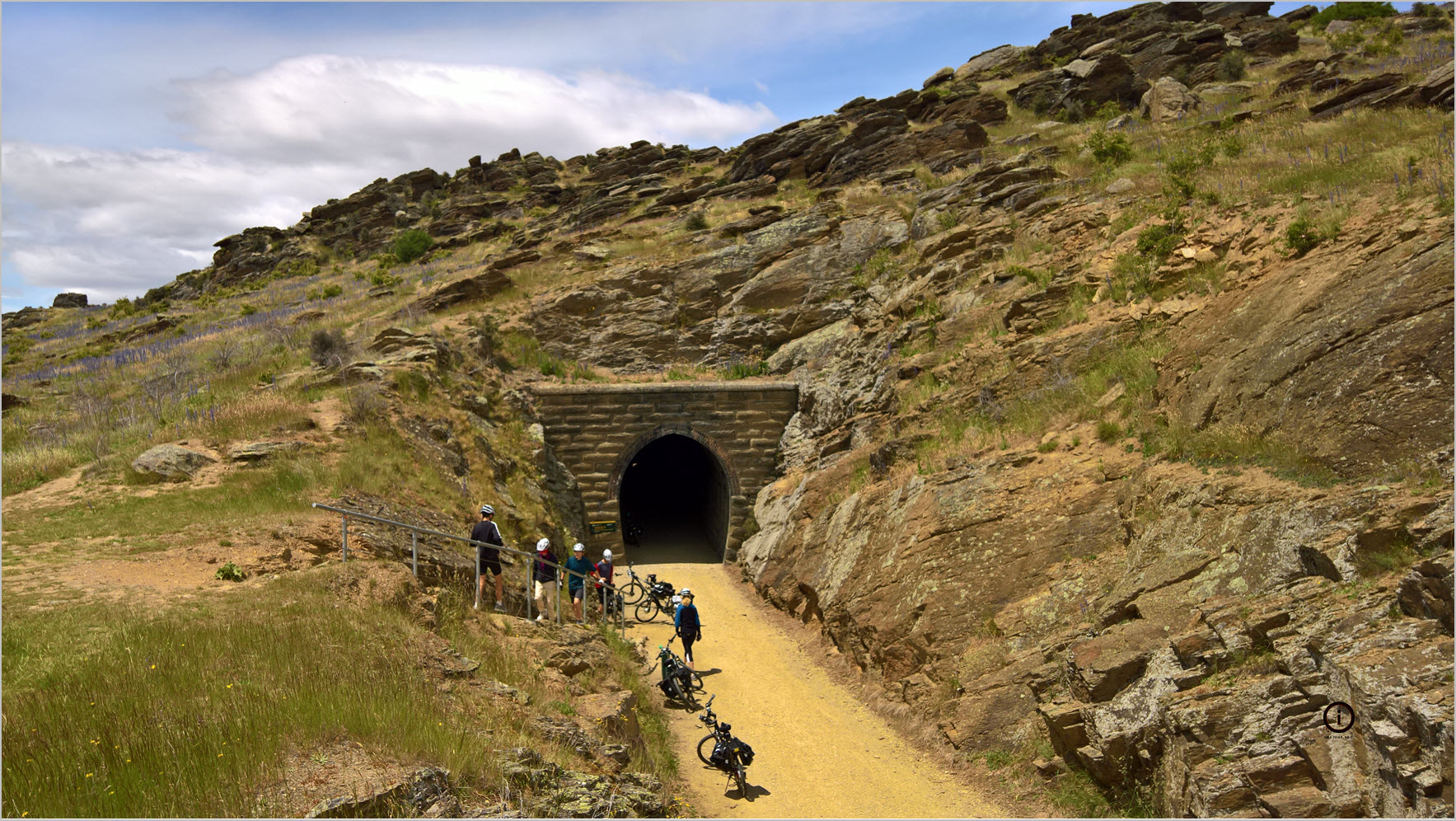 Day 3:
Late leaving again and the vistas got even better as we headed for Ranfurly.  We snacked in a 1920's era grocery store on old style clinkers, sherbet and raspberry sweets. No sooner had we left the store and the boys decided speed was the essence. My James ignored the instruction about stopping at the Waipiata Pub 8 kms up the trail and raced on. The others actually did stop and I found them at the bar. Unfortunately, my boy was miles ahead racing down the track. The next town was two hours further down the track.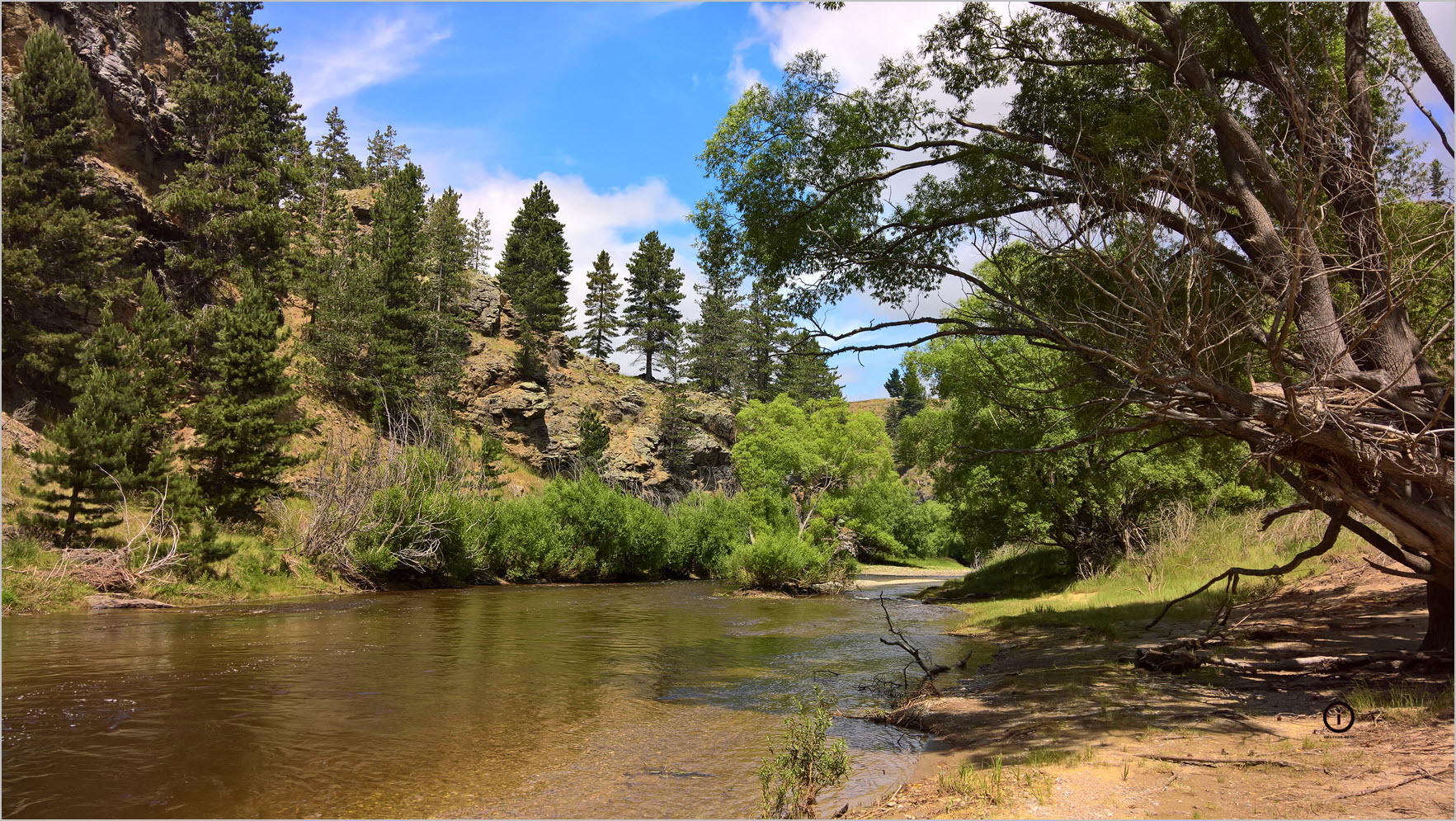 I borrowed the electric one of us had, turned it to the max and chased him. An electric bike is pedal assisted not just a motor so I raced and pedalled into the wind for a change for well over an hour. Occasionally I would see people going the other way. Have you seen a young boy? "Yes – they would say and he is travelling really fast". Grrrr.  I caught him eventually but used all my battery.  We then rolled through the remote gorge after Tiroiti, had a paddle in the freezing river and headed into Hyde and had a siesta waiting for the others. We stayed at the motel behind the historic Hyde School. That night we played backgammon and read really thick books and ate one of the best meals I have ever had.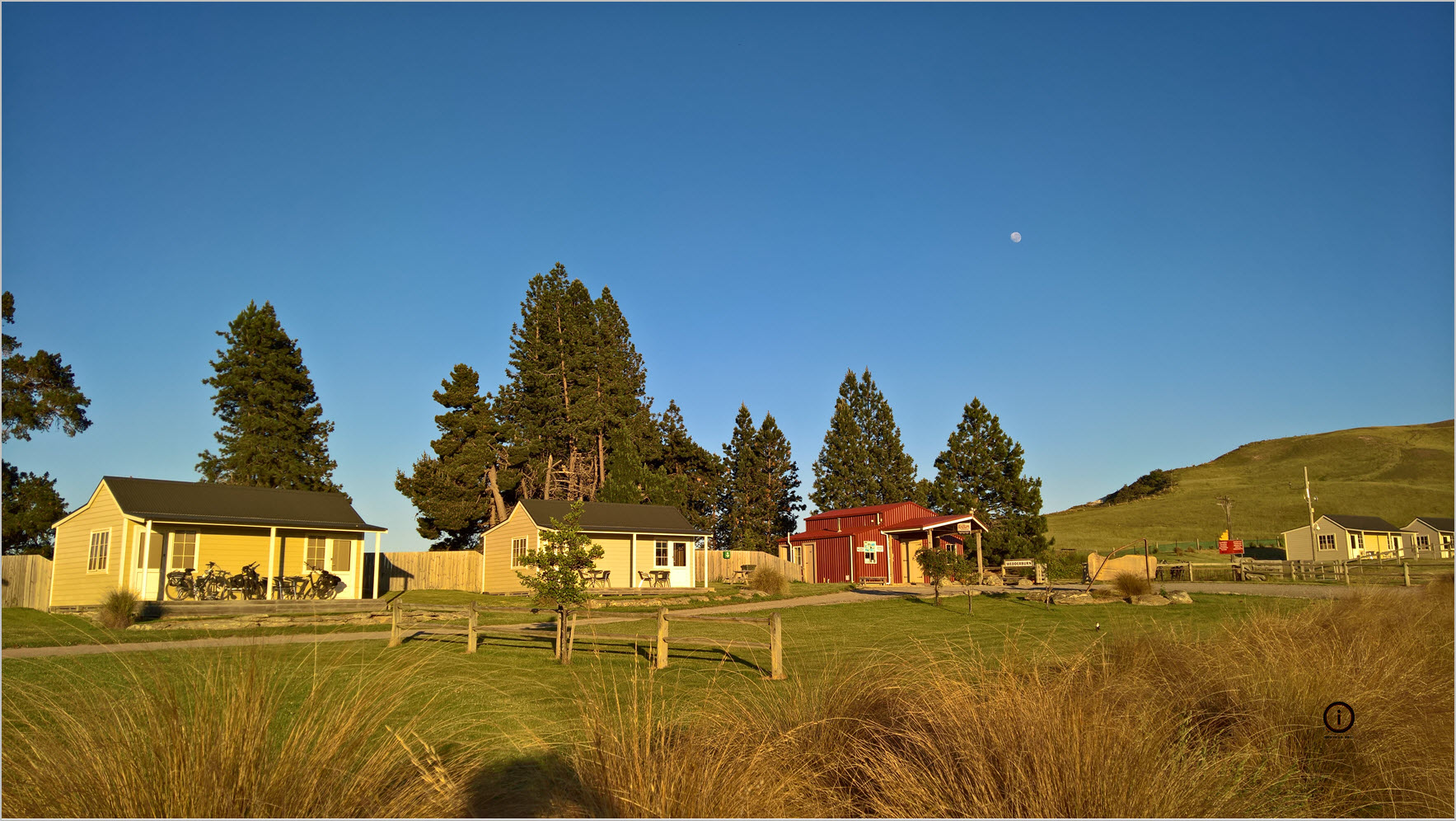 Day 4:
We rode into Middlemarch in an hour and half in the morning.  The boys and the two gentlemen speed along a little too fast as it was downhill. The ladies were still cruising and chatting and arrived half an hour later. We picked up our bags for the last time and families headed off to Dunedin on the train and James and I headed back to Queenstown in the Cycle Surgery's bus.  What a fantastic four days.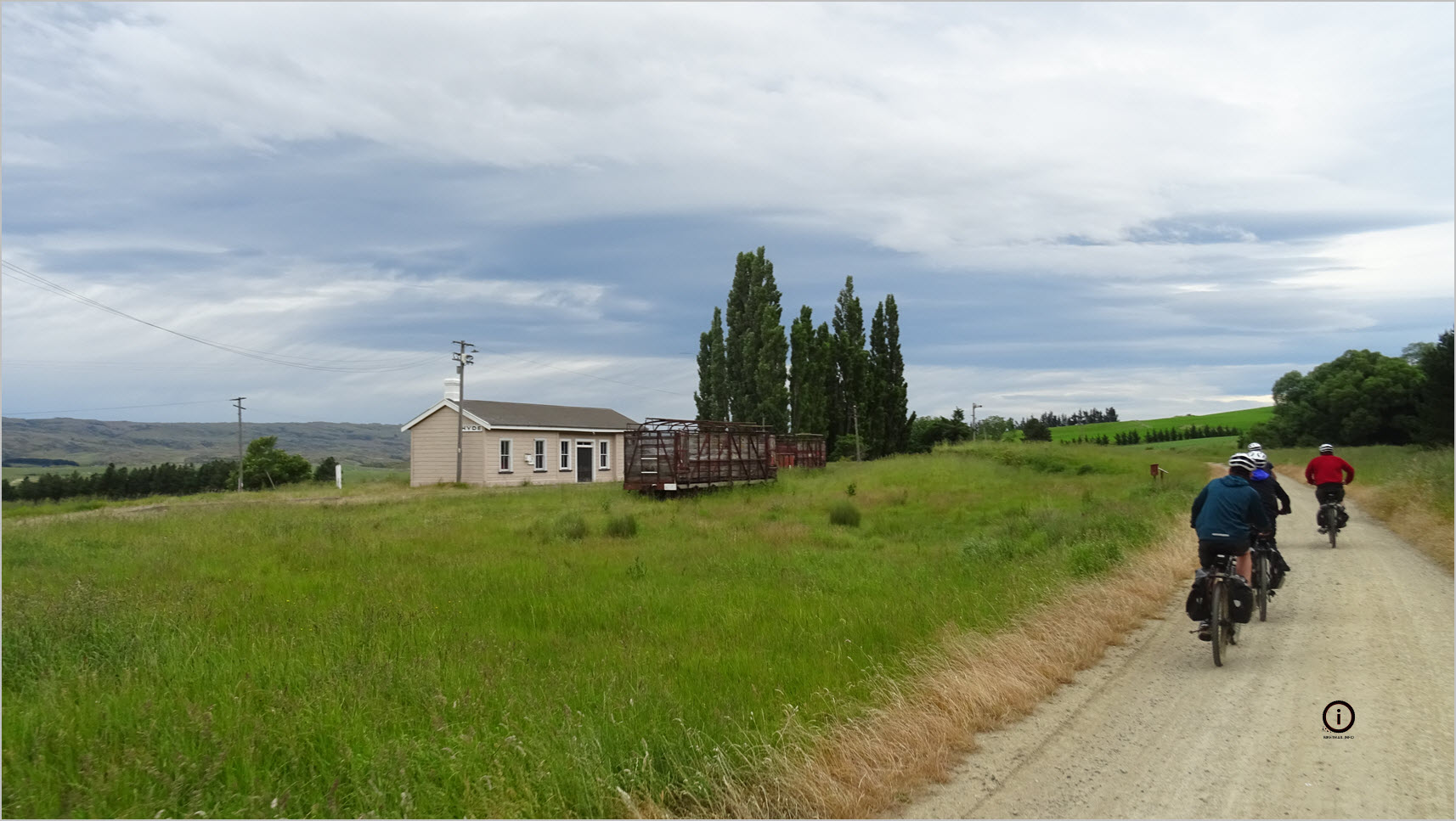 Days 5 and 6:
At Queenstown, a hip snow town in winter, we rode the Shotover Jet boats twice. Hint pay online and the second ride is only an extra 20$. We also had a great time on the "dry luge" at the top of the mountain. The cycling holiday was over, it wasn't overly expensive and there certainly was a few tales to tell.
Instagram: @biketrail.info
Facebook:   BikeTrail.Info
Blog: www.biketrail.info