Anyone who knows us knows we love China! It's Emmie's favourite country – and not just for Disneyland – she adores the people, the xiaolongbao, spending time in the most amazing nature and having adventures like walking on the glass walkways in Zhangjaijie. I love it so much too, its one of my faves.
If you're planning on heading to China we suggest organising your VPN before you go – it's a way of being able to get the internet and all the sites you love (which are banned in China). And you can grab the latest Lonely Planet guide to China here too.
Here are our favourite things to do in China. We hope we will be back soon.
The Great Wall of China, Beijing
It's hard to beat a night camping under the stars on the magnificent, spiritual Great Wall of China. Tale a small group tour with China Hiking and after lunch with a local family hike up the mountain to reach the original Great Wall of China. We set up our tent on the top of the Jade Watchtower andI still get goosebumps when I think of the incredible atmosphere.  We woke to the wall in mist as it uncurled before us through the forest across valleys and mountains. Emmie absolutely loved it. A must do in Beijing.
We stayed at the Beijing Shangri-La for some extra luxe and the amazing indoor swimming pools – and the Beijing Novotel Peace – which is in an awesome location within walking distance to many attractions like the Forbidden City, Tiananmen Square and the shopping mall at Wangfujing.
Read all about our overnight adventure on the Great Wall of China here.
Yangshuo, China
Straight to the Spirit Town list with Yangshuo. This little village surrounded by Karst mountains and nestled on the Yulong River is one of our favourite Chinese towns. If there is one particular feeling I had in Yungshuo it was joy. Joy is everywhere, it's juts a vibe and you feel it even more when floating downriver on bamboo rafts, hiking in the mountains and riding bikes around the rivers and fields. Emmie and I went into the Cold Water Caves and slid down a mud slide into a mud bath, it was so much fun. We stayed at the incredible Yangshuo Mountain Retreat, and loved it so so much. We just had a lovely time here and I was really, really sad to leave, even having a few tears in the taxi.
Juizhaigou National Park China
Often when westerners think of China we think of overcrowding and industrial areas – but China is actually full of stunning untouched and protected nature.  There is so much beauty to see in this amazing country and the Juizhaigou National Park is spectacular. The lakes here are that incredible vibrant blue green yet also completely clear, so you can see right to the bottom, there are so many dazzling waterfalls and green forest. The park is huge and a bus-system carries tourists around – it is popular and may be crowded but it is a spectacular display of nature and something we will never forget. Hot tip – start at the top of the park and work your way back.  Read all about our adventure here. 
We organised a trip at our hostel – the best hotel in Chengdu!
Giant Pandas in Chengdu China
Chengdu is where you go in China to eats traditional hotpot and to visit the Pandas at the Chengdu Base of Giant Panda Research. The pandas are amazing and are so much fun to watch as they bumble around and play – and their grounds are really large, they have a lovely place to live. We saw newborns while we were there – amazing! This is a great activity for kids and families in China, we loved it. Our favourite hostel of all our trip was in Chengdu, it's called the Hello Chengdu Hostel and is definitely worth a stay.
Read all about our time visiting the pandas here.
Wuxi
Boat rides down ancient canals, traditional villages, chairlifts, mountains, parks, lakeside fun parks and lookouts, Wuxi has so much to see. It also has claims on being the birthplace of xiaolongbao, although they are quite thick and we opted out of the traditional soup dumplings to a table at Din Tai Fung in one of the awesome shopping centres. Note that like many of China's larger cities Wuxi often has a high pollution reading.
We loved it and had such a great time exploring and eating – read all about our Wuxi love here. 
Hangzhou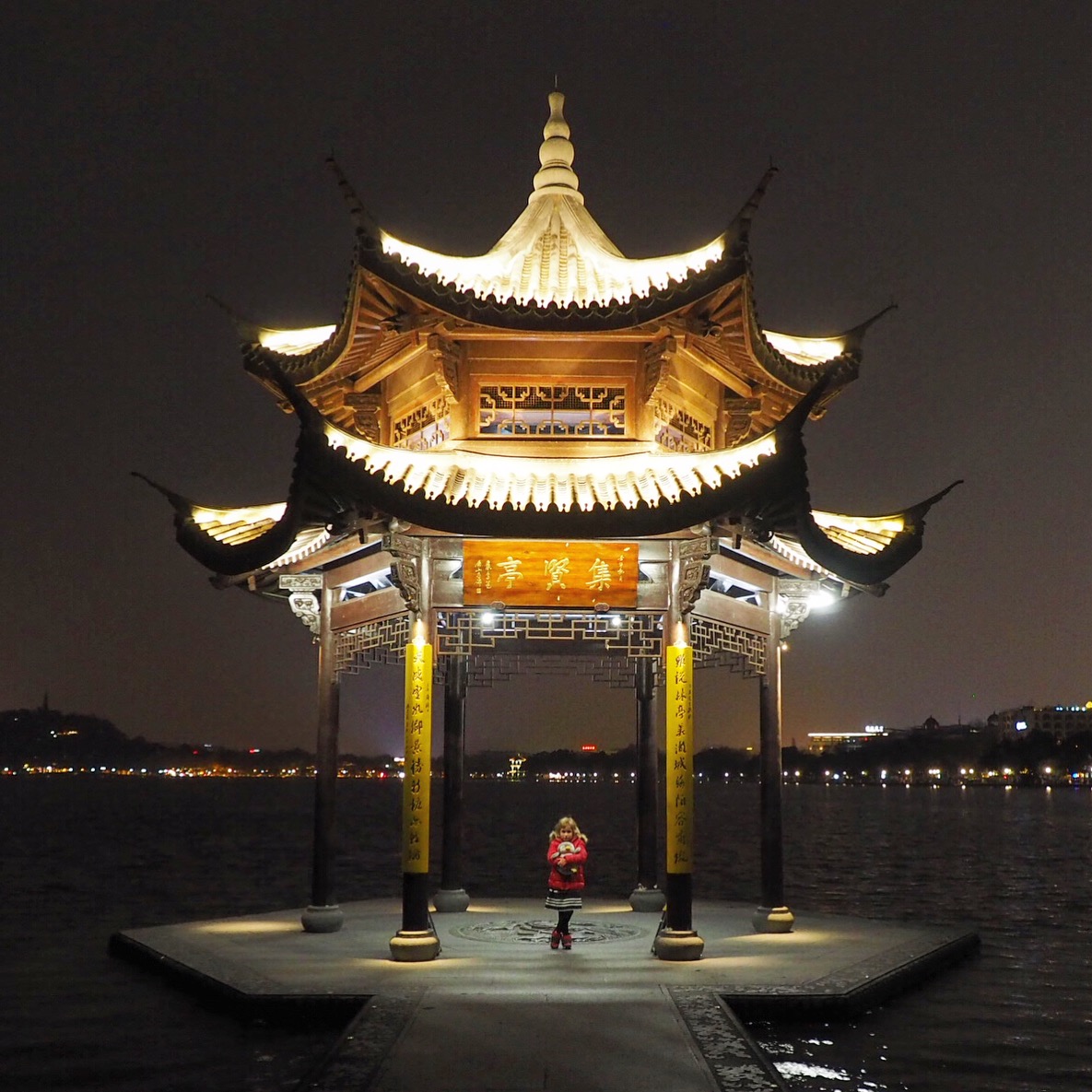 Hangzhou is one of the Seven Ancient Capitals of China, the birthplace and headquarters of the Alibaba empire and home of the stunning West Lake, a UNESCO world Heritage site for its natural beauty and significance in Chinese history.
We visited Hangzhou twice  – it's such a beautiful city and there's so much to do. Visit West Lake and take a boat ride, wander around the beautiful gardens and lakeside pagodas, east, shop and watch cultural shows and lotus flower light shows on the lake side. We stayed at the Hangzhou Sofitel – omg amazing – and the Mingtown Hangzhou Hostel where Emmie had a ball playing pool with young Chinese travellers.
Hangzhou is only one hour from Shanghai on the bullet train- read all about our stay here.
Zhangjiajie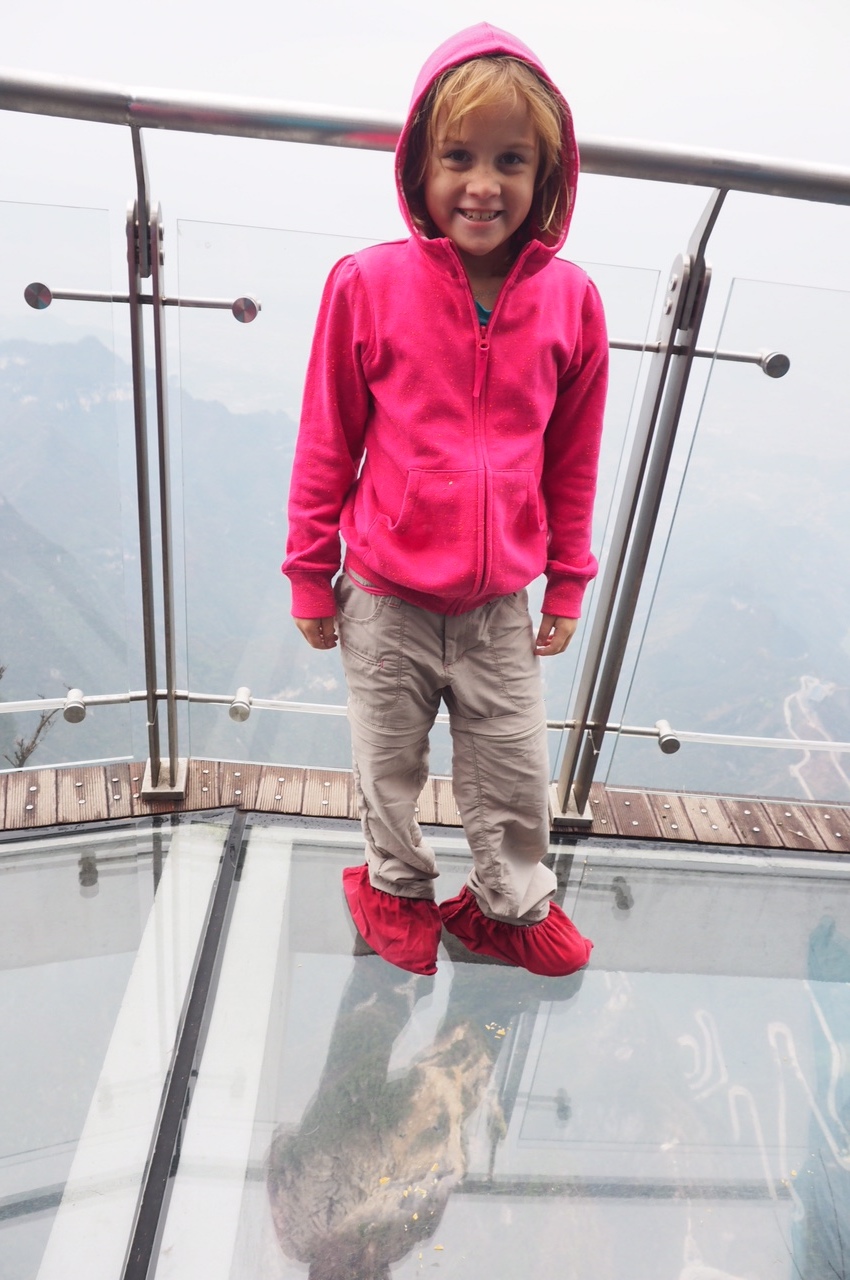 We visited Zhangjaijie thanks to Emmie discovering the glass walkways while looking up China on the computer. She wanted to do it and so we made plans and off we went. This whole area of China – around Zhangjaijie and Wulingyuan- is amazing. We want on glass walkways, glass elevators inside mountains, on the worlds biggest cable car and chair lifts and beautiful hikes. Our only problem was that it was super foggy when we were there! So we didn't get to see much of the Avatar Mountains and we will have to return!
Xi'an
Most people come to Xi'an to see the Terracotta Warriors – which are amazing to see – once you get through the shopping centre-like gauntlet of Starbucks, Maccas and other food and souvenir outlets. But our favourite part was riding bikes along the top of the Xi'an city wall. It's so much fun and again, props to the Chinese for coming up with the best activities. We stayed in a hostel called the Xiangyuan Inn and I booked directly via their website.
Shanghai
It's busy and crowded and it's so much fun. Colourful, energetic and organised, in Shanghai you can easily catch a hop on hop off bus around the main sights, visit temples and shop in fancy shopping centres and enjoy time on the Bund with its incredible futuristic skyline on one side and British colonial architecture on the other. Take a boat ride along the Bund, or just grab a ferry from one side to the other. We found a Din Tai Fung to enjoy xiaolongbao in and took pot luck in cheap, local restaurants – always a great choice.
We stayed at the Fish Inn on Nanjing Road in Shanghai, it was really nice and was in walking distance to the Bund, shopping centres and local restaurants. They also have a hotel closer to the Bund.
Shanghai Disneyland
We have been here twice and we just love it. In our experiences people have been patient and kind and it's not at all been pushy or chaotic. There is so much to see here, the parades are huge and energetic and new rides like Tron are super fun [get there early and ride over and over again] and Pirates of the Caribbean is mind-blowing. Toilets are big and clean and food is fresh and affordable. We stayed at the Toy Story Hotel at Disneyland but its so close to Shanghai if you want cheaper accom you can stay there or in some of the hotels that have popped up around Disney.
Read all about our visit to Shanghai Disneyland here. 
Getting around China
Worried about how you'll get around without speaking Chinese? Here are some tips from us…and it's easy!
How to get around China when you don't speak the language.