If you're keen for a super fun holiday in Bali where the whole family will have a fabulous time then make sure to head to the best family hotel in Bali – the Westin Resort Nusa Dua for a super relaxing, fun and educational holiday.
We just spent four days here and both Emmie and I had an awesome time. We honestly did not want to leave.
This is because the Westin Resort Nusa Dua gets the balance right for a family holiday – you want to spend time all together as a family but you want some alone time without the kids too, right? And children also want time to be independent and hang out with other children on holidays – and a family holiday at the Westin Resort Nusa Dua delivers all this and more.
Here's why we loved it so much:
The pools and slide.
The Westin has four swimming pools, but the central pool has a huge swimming area, a lazy river style loop around to a separate section with waterfall and slide and swim up bar.
There is so much to enjoy here – and importantly it's a real meeting place for kids. Emmie had so much fun and made lots of friends. They all played Marco Polo and other games together in the pool, flew down the water slide and sat at the bar sipping their lemonades.
This pool is shallow enough for around the eight plus age group at the waterslide and waterfall area, and deeper at the bigger pool – where I did laps each day. There are bridges crossing the pool and lots of lounges scattered around, the larger shaded day beds and covered areas too.
Close by is a smaller circular children's swimming pool, and walking through the grotto you'll find the salt water pool on the other side – just jump through the waterfall or enter from the walkway.
The final pools are much quieter and near the Prego Restaurant hotel wing. The main pool is deep and surrounded by daybeds and lounges and the children's pool is shaded. It's perfect for a quiet afternoon and if you're staying elsewhere but come to the Westin for the Prego Sunday Family Brunch you can hang out by this pool in the afternoon.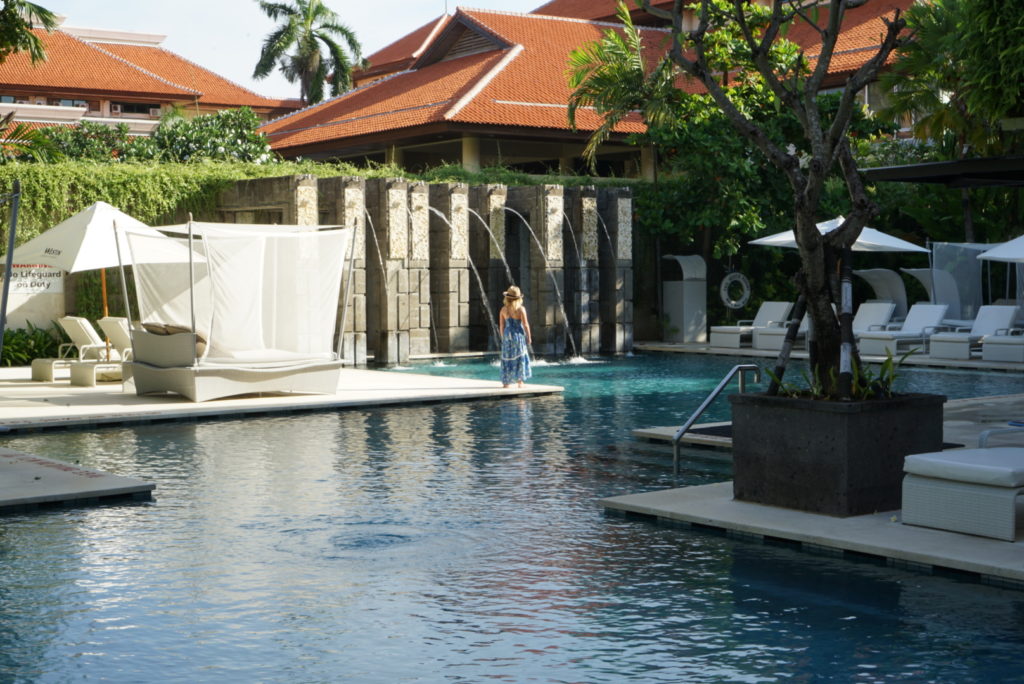 So many pools! This one is near Prego Restaurant and can be used for Family Fun Day!
Westin Family Kids Club
The Westin Nusa Dua has is a fabulous Kids Club – with huge indoor play area including a raised teepee area with sliding pole and outdoor grounds with a rock climbing wall, play equipment and swings.
What sets the Westin apart is its focus on health and wellbeing within the Kids Club, and its broad range of activities that include preparing religious offerings and dressing in traditional outfits to present the offerings at the Resort temple; kite making and flying on the beach; fruit carving and a while range of other activities. They also do arts and craft and beach and water activities like fishing.
The staff are so lovely and caring and it's a real pleasure to leave your kids there for a few hours to have fun playing and being creative with other children – while you rest!
The beach
Another standout is that the resort is right on the beach, so you can use the pool and the beach during the day. The shore is lined with daybeds and there's a convenient coconut trolley. Staff will come past with frozen fruit sticks during the day and restaurants and drinks are only a few footsteps away.
Prego Family Fun Day Brunch
If you're staying on a Sunday – or not staying but still in Bali – make sure to book in for the Prego Fun Day Family Brunch. It's on every Sunday and is an awesome buffet lunch – check out the Proseco packages – including a welcome drink on arrival, sumptuous food and activities of the kids including pizza making, a magician and outdoor games.
It's a seriously awesome afternoon. And once the meal is finished, if your into staying on property, you can use the Westin pool for the rest of the afternoon.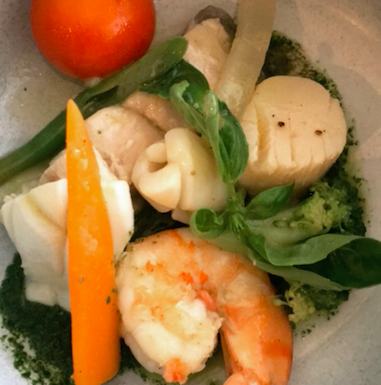 Lunch runs from 11.30 – 3pm and it's 360,000 IDR per person. Enjoy! You're going to love it.
For special deals use the code: mumpacktravelxwestinbali
Fabulous guestrooms
The rooms here at the Westin Resort Nusa Dua are just fabulous. We were lucky enough to stay in one of the Westin's premium rooms with huge comfy beds and lots of space. I've realised these are my two most important requirements – comfy bed – including pillows – and a room big enough to give us space and room to move around.
We had a balcony, day bed and lovely walk in closet as well as a huge bathroom with a bath and big shower. Bliss!
Westin Heavenly Spa and Kids Spa
Yes there is a kids spa here where you can organise child massages, hair braiding and other kid-friendly pampering. Emmie loved her massage and felt very grown up and special getting the massage treatment in a special bale along the beachfront. It's a beautiful spot to relax and unwind.
Meanwhile I was treated to fabulous pampering at the Westin's Heavenly Spa with the signature massage that was one of the most relaxing treatments I've ever had. But make sure to get their early to enjoy the facilities – I didn't and I wish I'd spent time in the complimentary steam room, Himalayan salt-sauna and hydro pool. Chuck the kids into Kids Club and run off to the spa.
Food & restaurants
You can literally order anything you wish here at the Westin with a variety of restaurants, bars and cafes to serve up whatever you like.
We especially LOVED the breakfast here. It's set in a lovely outdoor style restaurant with a flowing water-wall at the back and lots of fans to keep you cool as you overlook the grounds and the main swimming pool.
There is so much delicious food here and many options – my absolute favourite was the Balinese omelette with chicken, chilli, herbs and coconut milk. I would return just for this dish!
The vibe.
Finally, this is super important to us. The vibe of a resort can make or break it and the atmosphere here at the Westin Resort Nusa Due is so great – it's a combination old old school holiday vibes, absolute relaxation and super dooper FUN! The kids literally have the best time and and as we know if the kids are having fun then mum and dad are going to have a ball.
I really think this resort is a brilliant choice for a family holiday in Bali. Can't wait to get back!
You can check out prices and availability here.
Thank you so much to the Westin Resort Nusa Dua for hosting Emmie and I at the resort.