If you thought the Hunter Valley was only for wine and hens weekends then it's time to get to know this super family friendly region of NSW! The Hunter is an amazing location for a family getaway, catching up with a bunch of friends and their kids or a mum and kids weekend.
I love traveling with Emmie and I love spending time with friends and having weekends away too – especially those weekends where there's adult time for chatting and drinking wine while the kids are happy doing their own thing (close by of course).
Our trip up to the Hunter Valley and Oaks Cypress Lakes Resort was the perfect balance of adult and family time – and to be honest I was really surprised that one of Australia's best known wine regions was so super child friendly. But it is!
There is so much for kids to see and do, wineries are decked out with kids activities so parents can relax and enjoy, and Oaks Cypress Lakes Resort's huge grounds, swimming pool and self-contained villas make it super easy for everyone to have a fabulous time – and come home with great memories and lots of wine.
Where we stayed:
Cypress Lakes Resort is a beautiful golf and country club set amongst the bushland of the Hunter Valley in New South Wales, less than three hours drive from Sydney. Whilst it feels like you're relaxing in your own private world, the resort is really close to wineries and restaurants, cafes, cheesemakers and the Hunter Valley Gardens.
The Resort is also home to an 18 hole championship golf course – one of the best resort courses in Australia. Kangaroos love munching on the green grass and you will spot them hopping around the resort during your stay.
We loved our stay in a two bedroom villa overlooking the golf course, with a big balcony, kitchen, two bathrooms and a loungeroom. This style of accommodation in perfect for families and groups of friends, with room for the kids to play or have a movie night while parents sit and enjoy wine and cheese on the balcony. The villas are spacious, the rooms are big and beds comfy.
We had breakfast at the resort – huge thumbs up for barista coffee – and dinner overlooking the pool from The Restaurant which was really delicious and offered kids meals that were gobbled up by all (what a relief when that happens, right?).
I was really happy with our villa and loved staying here at Cypress Lakes Resort. It has a really relaxed vibe and I am pretty sure that's because everyone here is having such a great time tasting local wines and touring wineries, playing golf and just enjoying the beautiful views of the Hunter Valley.
What we did:
Hot Air Ballooning
I just managed to climb into the balloon basket because there are only a few things I don't trust in this life – men with two first names, my own judgment (occasionally) and anything that isn't touching the ground constantly. That's you, balloon. But I've always wanted to try ballooning and I knew this was my chance to see what everyone else raves about – the serenity of floating above the world.
Oaks Cypress Lakes Resort has just launched its own hot air balloon to celebrate its 25th Anniversary – not a bad pressie for such a milestone – and its big blue dome is easily spotted from the ground as it sails over the Hunter. It was this balloon that would keep me afloat, manned by the team from Balloons Aloft.
We were up early and out to meet up with the team and after a safety briefing we drove to the field where about 10 balloons were being set up for the mornings sunrise ride. It's loud as the air is pumped into the balloons, and so much fun watching them inflate. Before long we were all climbing into the basket and getting ready to be released into the sky.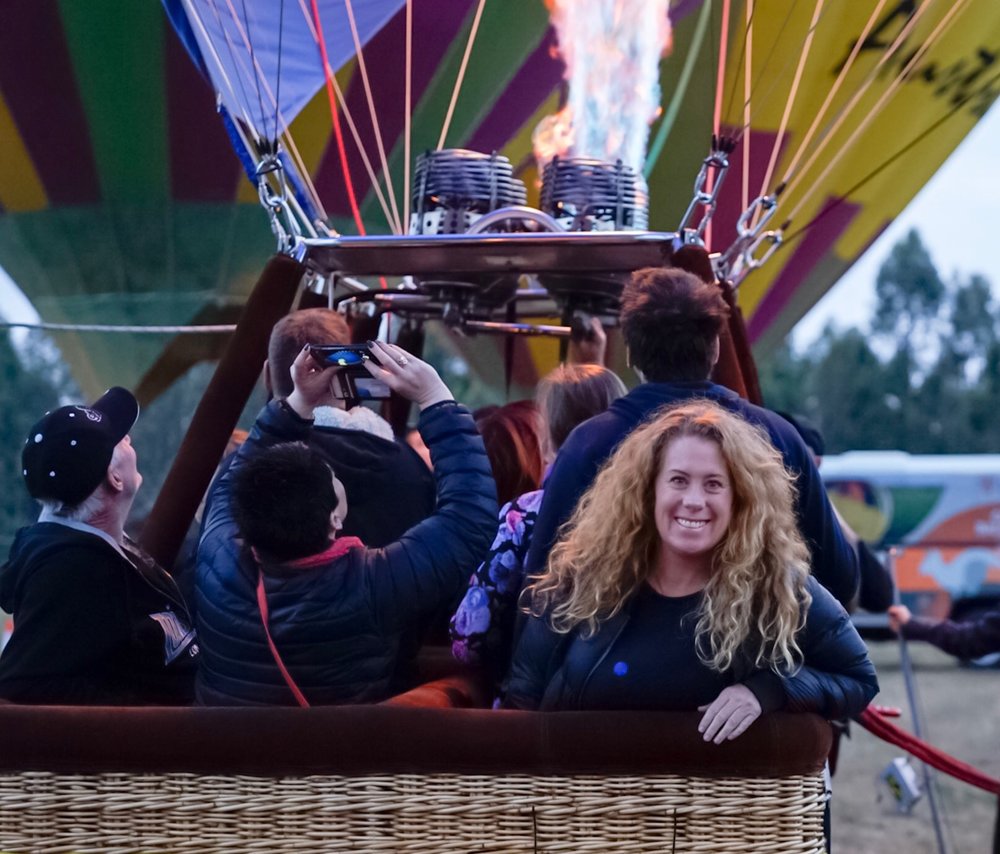 Ready to go!
To my surprise, going up in the balloon was really calming – I think cause it's so soft and you just slowly rise from the ground. The ground just seems to fall away and before long you're just floating over the world.
It's really quiet up there, watching the earth below – mobs of kangaroos hopping along, horses running in the fields and distant views over vines and paddocks. Once wed landed we helped pack away the balloon and were taken out for a champagne breakfast at Petersons Winery. Breakfast was super yummy and these bubbles are so good I had to buy some.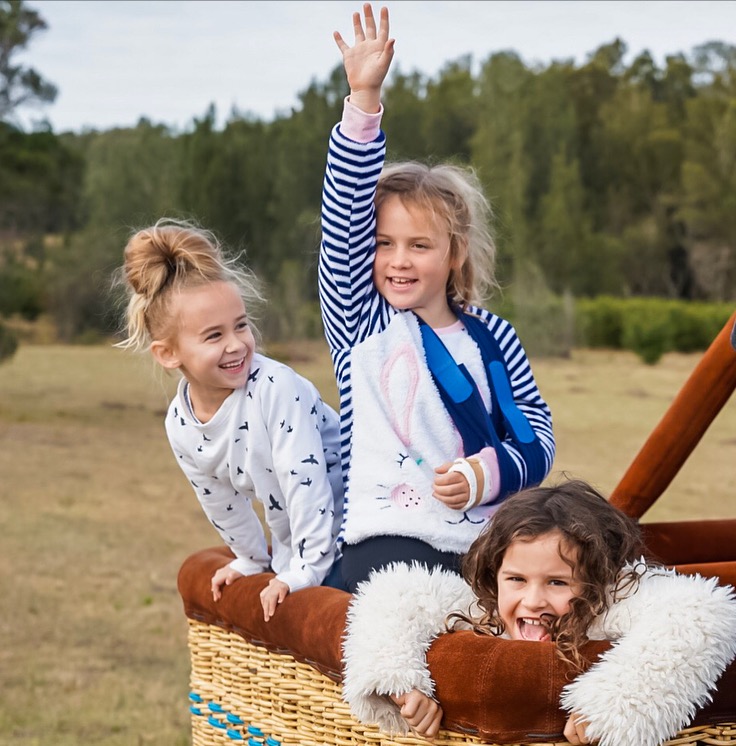 Kids over seven years old and 120cms tall can fly so this is a fabulous family adventure for older kids. Emmie was supposed to fly with me but she had broken her arm and couldn't come up with us…so we will have to go back because I know she would love it.
Scarborough Wine Co
After visiting Scarborough Wine Co I needed no more convincing that the Hunter Valley is fabulous for family holidays and a great place to take the kids. This winery is set on a hill overlooking gorgeous rows of grapes, with a beautiful wooden deck surrounding the farmhouse and cellar door.
A huge green grassy outdoor area is scattered with picnic blankets and kids games – like oversized jenga and a huge blackboard with chalk. The winery also has colouring packs for kids with a small book and pencil set if they feel like sitting down for a while – ours didn't, they loved being outdoors and playing while the parents tasted wine and enjoyed a delicious tasting plate of local meats and cheese.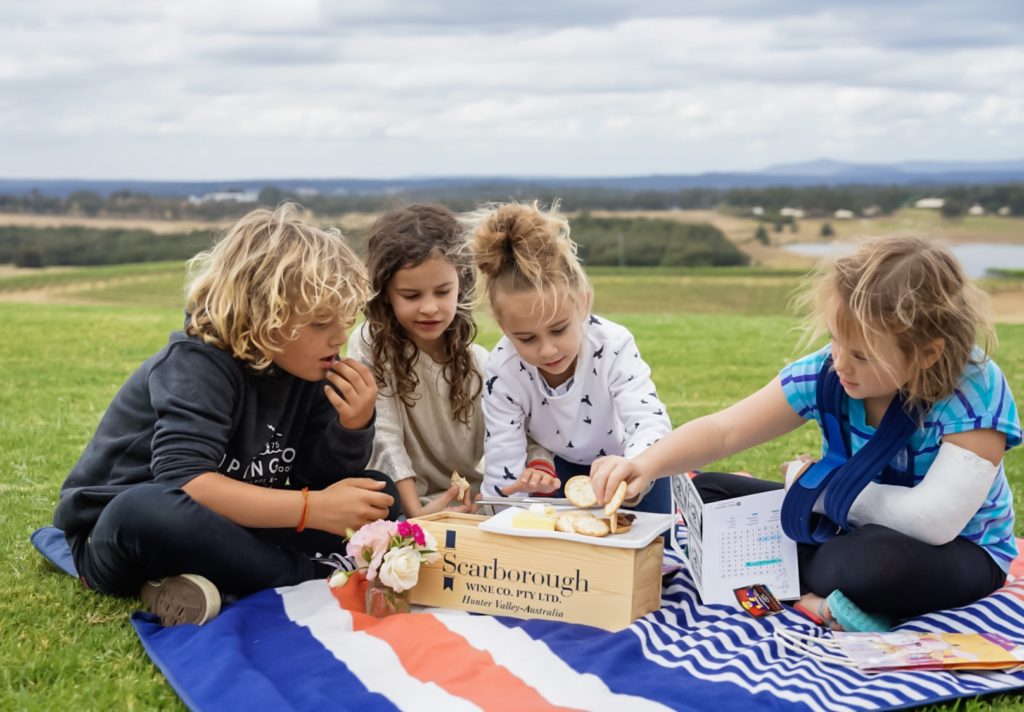 It's the perfect spot for some wine tasting and believe me you'll end up buying a few bottles while you're there, it's such lovely wine. But the best part is everyone will be happy and relaxed cause the kids will be having a ball. I love places that put thought into keeping kids happy – cause happy kids = happy parents!
Scarborough Wine Co is one of the many Hunter Valley Wineries that make an extra effort to accomodate families. Half of the fun is finding the wineries you love and enjoy spending time at – its a fabulous exploration, with wine at the end of the trek.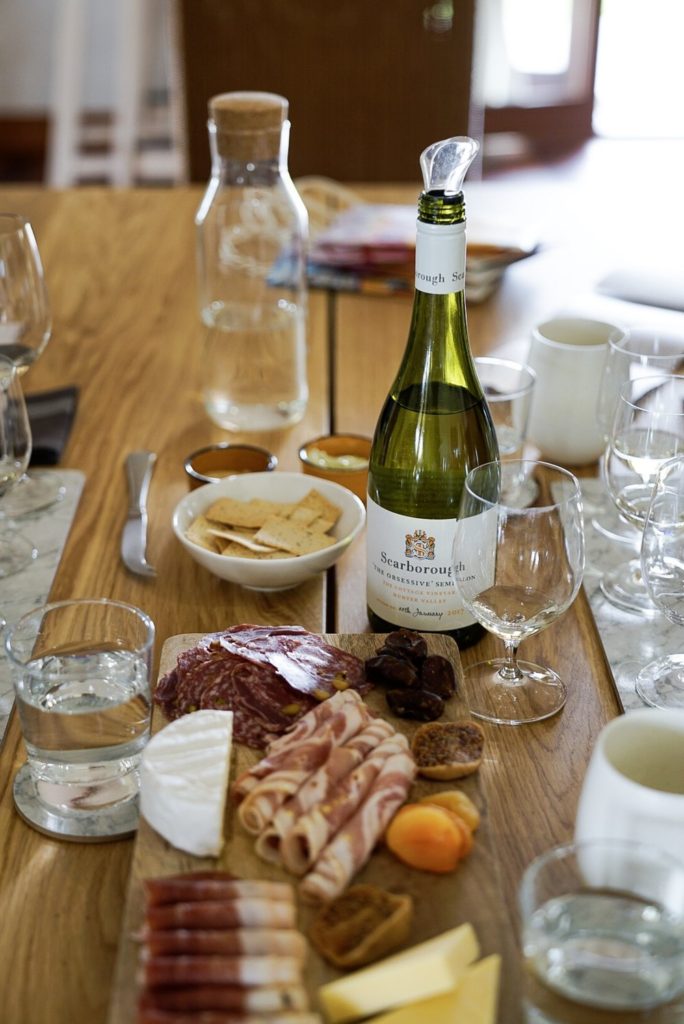 Dinner at The Restaurant, Cypress Lakes Resort
Dinners here are perfect – the food is absolutely delicious, there's an extensive kids menu and you're only moments from your villa…but it feels like you're off-property. The restaurant overlooks the swimming pool and the resort grounds and is very used to accommodating large groups of families.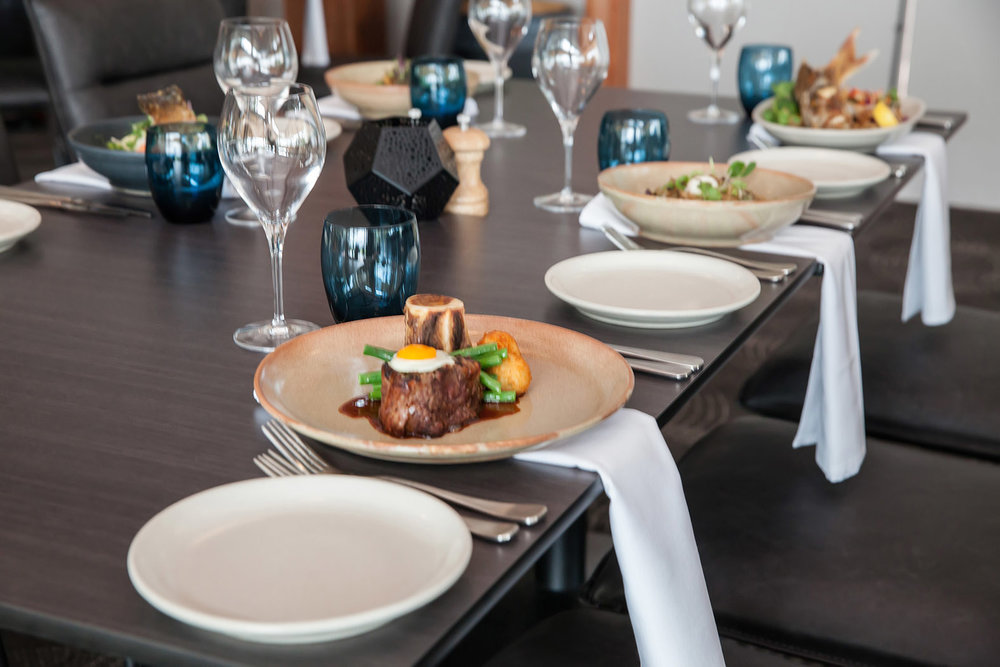 After your meal you can take a late night dip in the pool or wander back to your villa for a movie. The villas have Foxtel connected to the lounge room televisions so you can relax with a show, or set the kids up for a movie night (like we did) while the adults enjoy some more wine and cheese on the outdoor deck.
We stayed at Oaks Cypress Lakes Resort as guests of Oaks, and had a fabulous time. I would defiantly return here with a bunch of friends, as a family or a girls weekend – with or without kids. The two bedroom villas are big enough to share and feel like home after a day out exploring.
And of course, the wine. There's really no reason not to go!
STAY: Oaks Cypress Lakes Resort
SIP: Scarborough Wine Co
FLOAT: Balloons Aloft