Chiang Mai is such a brilliant destination for holidays with kids – it has everything that families could want for an adventurous, cultural and relaxing vacation. Ancient Buddhist temples, jungle treks and nature hikes, elephant rescue camps where you can love and care for these beautiful creatures, fabulous local and western restaurants, parks, gardens and markets.
But we all need our downtime too, and when it's time to relax a massage at Chi the Spa at the Shangri-La is high on my list. While we were hosted at the Shangri-La I was lucky enough to be invited for a complimentary treatment at the spa – and it was so incredible that I returned and paid for another two – which really helped after my lower back had seized up from sitting for hours on the plane back from Germany.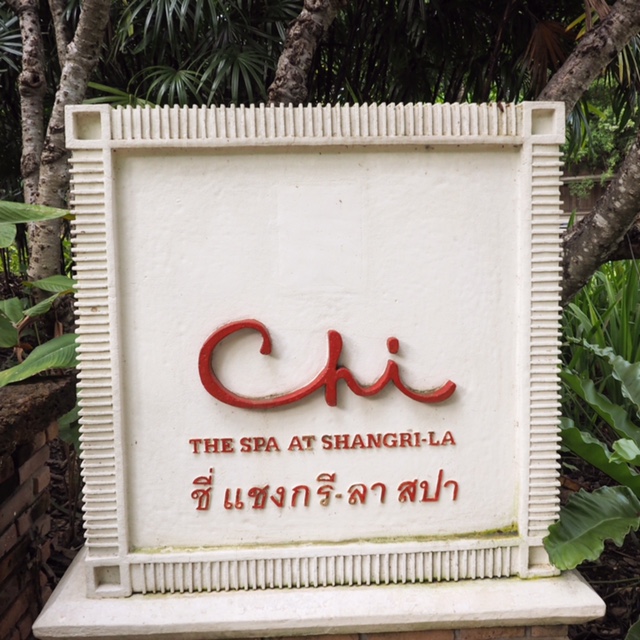 Of course, a massage here costs more than the places you find on the street where you can get a cheap foot or body massage – and sometimes all you want is a cheap 30 minute foot massage. But personally, I prefer to have one or two really great, healing treatments than multiple formulaic rubs behind a cotton curtain! And nothing can beat a luxurious steam room and massage in your own private villa to soothe your muscles after a day rolling in mud with elephants.
So, Chi the Spa. For our first massage Emmie was with me and we were welcomed with a local fruit drink by the lovely Nuttaya who manages the spa and all the public areas at the Shangri-La. The entry area is a large tranquil, soft-lit room with private cushioned nooks and light music, where you sit and calm down and prepare for your treatment. After sniffing some fragrant oils I chose my scent (calming), selected the pressure I like (firm) and listed the areas where I wanted the therapist to focus. Emmie also chose her oil, feeling very grown up and being treated with patience and care by the staff – she was getting a half hour childs' massage which is perfect for a special mummy and me experience. And one of the many great things about this spa is that if you need to bring a child with you there is a special villa with a huge round lounge for children to rest and play in while mum or dad (or mum and dad) enjoys their treatment.
We were introduced to our therapists who then led us through along an outdoor pathway past ponds of koi to our private villa. It's private entrance opened onto pools of blue water and an entry hall where we took off our shoes before being led inside. I changed in the private dressing room into a robe and undies while Em nuded up straight away and ran down into the therapy room to begin her massage. I spent the next 25 minutes in the private steam room, sitting in the soft heat, sweating, stretching and relaxing in preparation for my massage.
After 25 minutes the alarm went off and it was time for a quick shower with the delicious Chi products leaving my skin soft and smooth before I popped the robe back on and made my way into the softly lit massage room. I first sat down and placed my feet in a cool bowl of water full of floating limes which were softly rubbed on my feet while they were massaged and and washed, then dried before l laid face down on on the massage table ready for heaven! Emmie was laying in the bed next to me, already half asleep – she loves her massages, she has certainly gotten used to them on this trip.
And then the massage began. I have to be honest here, there is a huge difference between the street massages and the Chi massage. Yes you can come to Thailand and pay 200 Thai baht for an hour long street massage, and you can get one of those a day, of course. But in my experience, these massages are quick, formulaic and can hurt because you're not getting the personal attention of a trained therapist. Even when I have asked for attention on a certain part of my body I still get the routine massage, and quite often it doesn't hit the mark or I end up very sore. I reckon that instead of getting multiple cheap massages, it is so worthwhile to treat myself to a proper massage at a resort spa like Chi. And I think you should too – oh my gosh it's so worth it!
The massage was the perfect strength and I could tell the therapist was paying attention to my body – where muscles are tightened or knotted, where I need extra pressure or where I need a softer touch and worked to loosen my sore spots. I soon found myself dozing off into a light sleep.
I turned over onto my back and saw Em asleep on the bed next to me, hugging a giant teddy bear the staff had given her, and then part two of my beautiful massage began with my arms, legs and then neck massaged before my head and face. Finally I sat up for more shoulder and back massaging and some final stretches before, sadly, it was all over.
Floating on air, I wrapped myself in my robe feeling so relaxed, my limbs and muscles long and stretched, my skin so softened and my mind so fuzzy and calm.
I slowly woke Emmie up from her deep sleep and she was dressed before me as I pottered around the dressing room, prolonging my time at the spa. When I finally left the room and was guided back to the spa reception I found Emmie at one of the outdoor pagodas, enthralled in a leaf weaving class with her therapist, learning how to weave flowers and fish from the long green palm leaves.
We were given a tray of green tea cookies and passionfruit to enjoy- Em loved these so much the ladies gave her a little gift pack to take with her – before we were finished and floated back to our room to snooze and relax at the end of the day, and ready for more adventures.
For treatments and prices at Chi the Spa visit the Shangri-La website.
Guests of the hotel receive a 20 per cent discount on treatments.
We received one complimentary massage as part of our hosted stay at the Shangri-La Chiang Mai – I paid for the other two.