All done and feeling good!
As travellers and tourists I think most of us are aware of the importance of traveling responsibly and do our best to contribute to the communities we meet and visit during our adventures.
There are many ways we can help – like eating local, being aware of where our money goes, and visiting smaller family or community- owned and run restaurants and businesses.
There are other ways we can contribute that don't cost money. Although in this case it will take some blood and possibly sweat and tears.
Yes, I'm talking about donating blood. Yes your real actual blood. Many hospitals in Asia are under-resourced and lack essential equipment, expertise (let's not forget the time a doctor checked my ear to see if my eardrum had burst – with the IPHONE TORCH!) and supplies.
The Khmer Rouge wiped out more than 50% of Cambodia's doctors during 1975-1979, and those who escaped death fled to Europe. Cambodia was left with very little in medical facilities, services, training and expertise. It has one of the highest infant mortality rates in South East Asia – one in every 29 children will die before their 5th birthday; poverty and a lack of access to health care contribute to preventable child illness and death [source: Angkor Hospital for Children].
Many Cambodians live on around $1 a day – and the Angkor Hospital for Children treats kids from around Cambodia whether their family can pay or not, and reimburses them transport costs should they need it.
And we all have one of the most important supplies needed to sustain human life. Blood!
While we were in Siem Reap I found that I could give blood at the Angkor Children's Hospital and I was really keen to do it. Their donations have been going down over the past few years and with only 1200 or so people donating each year  – out of almost 5,000,000 tourists – there is a lot of room and a lot of need for more.  Our new friend Patsy from the Philippines was keen to donate too (yay Patsy) so we wandered down to the hospital one morning.
The Hospital accepts donations between 8am and 4pm each day and it's a really simple and 99% pain free experience.
We arrived at the gate and were let in by security and taken to the blood donation rooms. A super lovely light fingered technician Nit Nin met us and we sat in a small waiting area and filled in and signed a consent form. We then sat at his desk while he then took a smile vial of blood from each of us and tested our haemoglobin count.
I watched every minute and everything is done perfectly:
– new gloves
– alcohol swabs
– all equipment taken from new packaging opened in front of us
– cotton wool and tape over the prick when finished.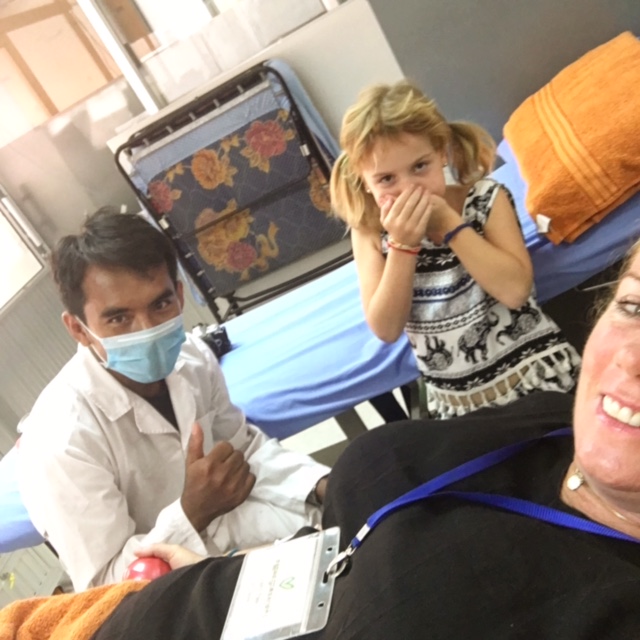 We got the thumbs up and it was into the proper donation room where we reclined on beds and the main event started, We each gave 350 ml of blood and apart from a teeny tiny prick when the needle was put in there was no pain at all. I generally have pretty iffy veins and Nin found mine in one go. It was such a relief.
Once we were finished we were given a little gift bag with a t-shirt, a can of Coke and biscuits.
And we felt so GOOD! Especially as we passed by the poor little kids on the way out, laying outside in the heat with their families waiting for treatment. It's heart breaking and we knew we had just done something, albeit small, to help.
So if you can please consider donating if you're in Siem Reap – all the details are here.
You will be so happy and can high five yourself all the way home.
xoxo Evie