This was our fourth time at Disney, but our first time at Christmas!  A last minute – and surprise for Emmie – trip over to Disneyland California for five days. Here's the list of what we loved about our Disney Christmas:
The Christmas fireworks and sparkling snow on Sleeping Beauty's Winter Castle
Oh so beautiful and magical, especially with the finishing touch of soft falling snowflakes, the firework display is not to be missed – and luckily you can watch these gorgeous Christmas fireworks from virtually anywhere at 8.00pm each night. All you need to do is look up.
The finale is the illumination of Sleeping Beauty's Castle as thousands of Christmas lights turn it into a beautiful sparkling snowy centrepiece while love hearts and shooting stars explode overhead, and snowflakes fall. Pure magic!
The Christmas cheer and festive outfits
Christmas carols, decorations and characters dressed in their best Christmas outfits. Disney pays such close attention to detail that even the words of the street shows, such as the Red Car News Boys show on Buena Vista street, were slightly modified to include Christmas references. Christmas truly is everywhere at Disneyland.
Disney's Viva Navidad Street Party
Disney California's wonderful street party – the Viva Navidad includes the Three Caballeros: Donald and his two amigos,  colourful dancers from Brazil and Mexico, four metre tall mojiganga  (dancing puppets) and an appearance from Mickey and Minnie Mouse. This show had us captivated with its energetic, colourful dancers and musicians. The nearby Paradise Garden, where you can meet the performers, also hosts Latin arts and craft, food and musical performances. I wish we'd seen this show again, we both really loved it.
Disney's Christmas Fantasy Parade
Truth be told I prefer the non-Christmas Disney parade! I'm not sure why…maybe because now Emmie and I know the parade song and it's really upbeat and fun. This parade is a little more subdued, but it is wonderful and it has Anna and Elsa in it, as well as gingerbread men, Santa Claus and all the usual character suspects. It's still a must-see though, and people claim their space along the parade route from early afternoon.
It's a Small World Christmas
The cutest Christmas ever with every scene transformed into a gorgeous Christmas wonderland, with costumers, lights, angels, carollers and Christmas trees.  Jingle Bells was playing alternatively with the It's a Small World song so it was truly magical and I wish we had waited in line more than once for this gorgeous ride. At 5pm the exterior bursts into an amazing lighting spectacular.
Christmas rides
It's a Small World isn't the only ride to get a Christmas makeover – The Jungle Cruise becomes The Jingle Cruise – with a special assortment of Christmas dad jokes, and The Haunted Mansion has its own creepy Christmas theme. We realluy liked both, although we went on the Jingle Cruise in the dark and in the rain so Emmie refused to give it another go.
The 20 metre tall Christmas Tree in Main Square.
The lights are turned on with fanfare at 5pm every night. Amazing! And a very popular selfie choice I noticed!
Santa Clauses
Santa Claus is very busy at Disneyland. He is at the parks and the Disney hotels to meet all the little girls and boys and listen to their Christmas wishes. Disney's photographers are on hand at many thrones to take photos, or you can take your own.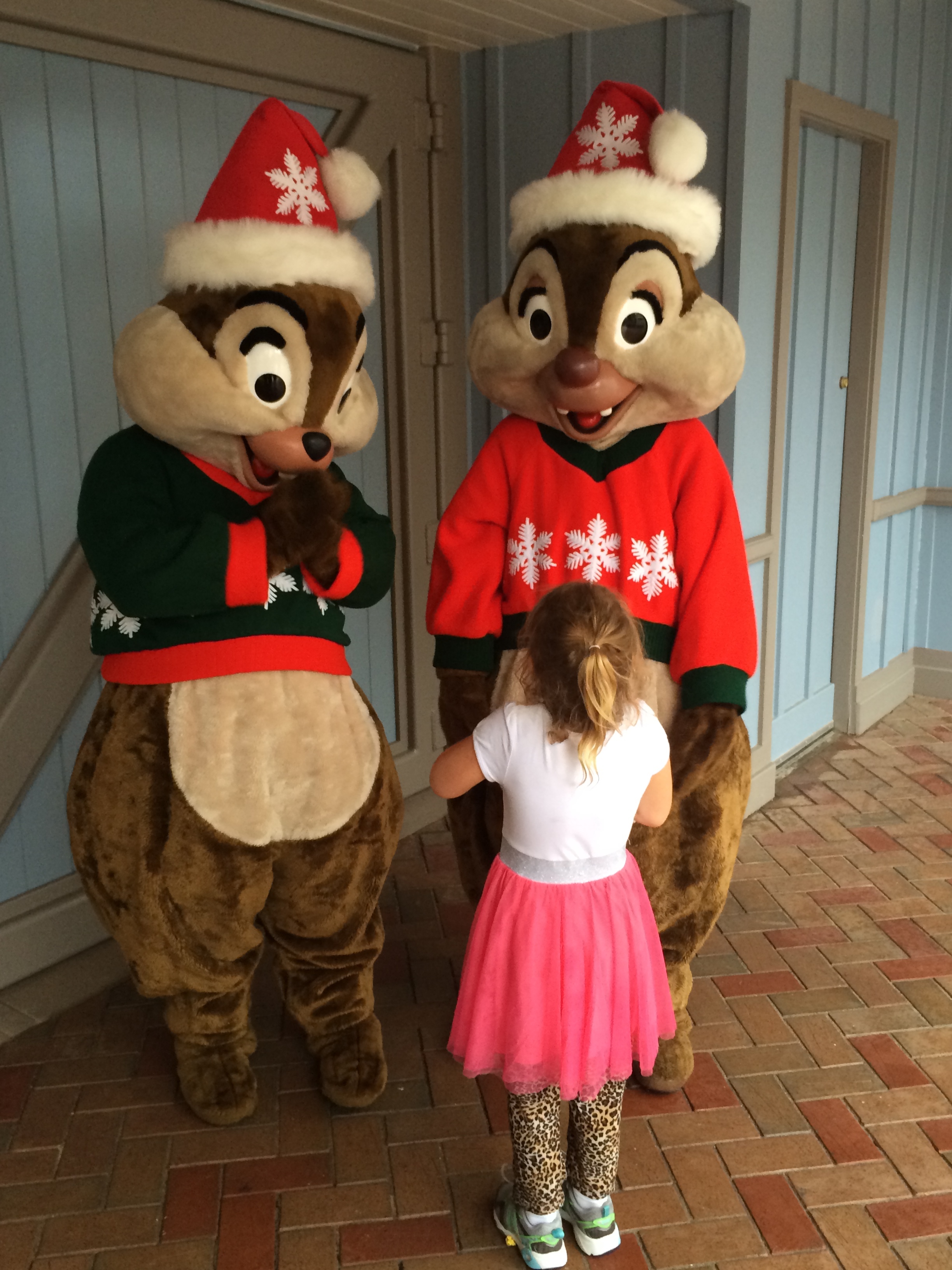 What a fabulous adventure, and as always, any time is a great time to visit Disneyland!