Emma from Luxe Family Travel is a Maldives expert, having travelled with her hubbie and their four children to eight of the most luxurious Maldivian resorts.
Here are Emma's top tips on how to choose the perfect resort for a family holiday in the Maldives:
1. Beach or Overwater Villa
You need to decide which type of accommodation you  prefer as many resorts only have beach villas and some overwater villas only allow children from 5 years and up. For us, the overwater villas are what makes the Maldives really unique and special so we always choose an overwater villa where possible.
2. How remote are you prepared to go?
The easiest way to get around the Maldives resorts is by speedboat so the resorts closest to Male make for the quickest and most seamless transfer. You can be sipping cocktails on the beach within 30 minutes of exiting the airport. Further resorts require a seaplane (or even a domestic flight) and add extra travel time for weary little travellers. Also consider that seaplane's can only depart in daylight so we always try to stay at a resort close to Male at the end of our trip so we can get their speedboat to the airport at 9pm ready for the International flight out of Male at midnight.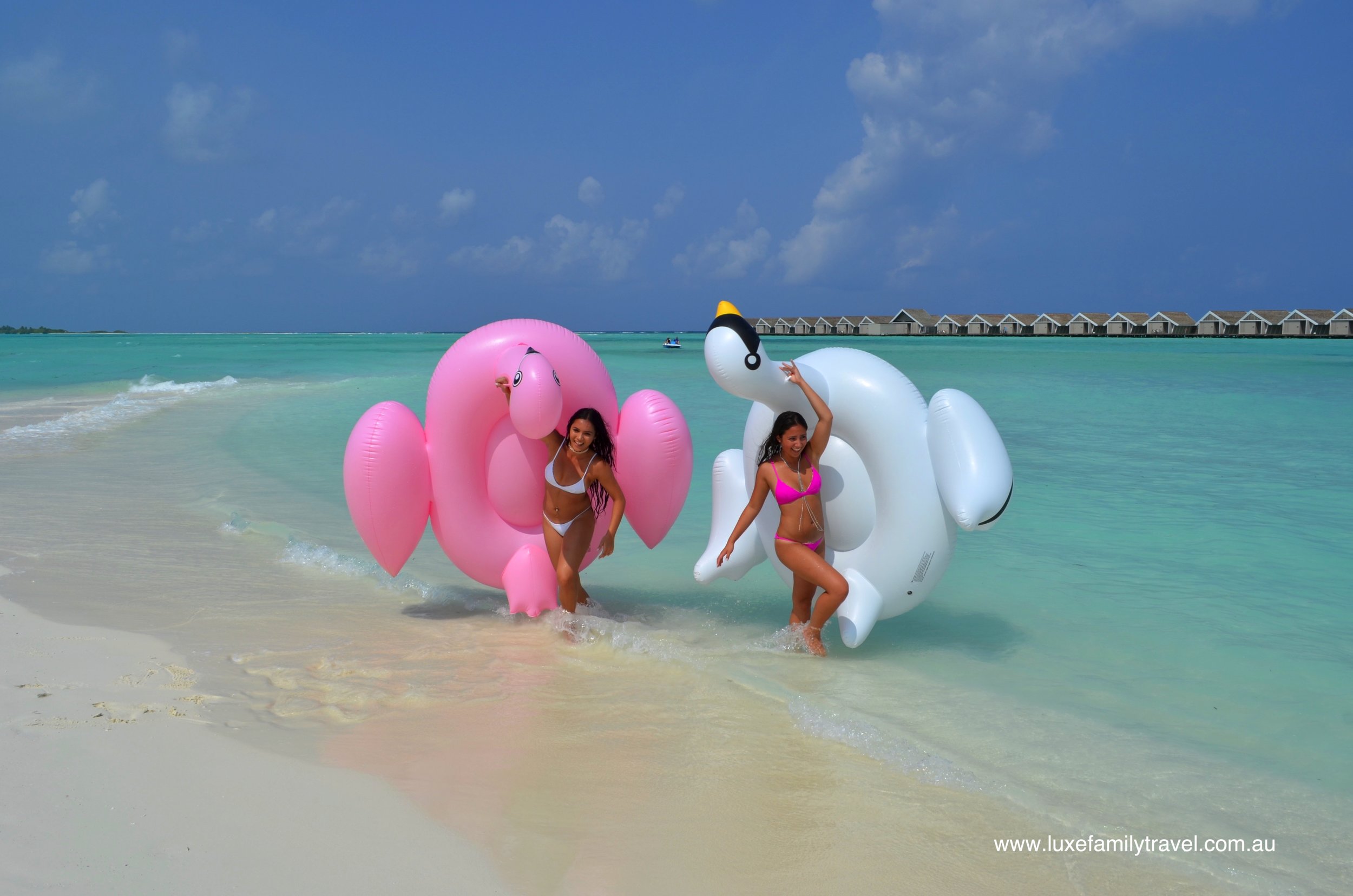 3.  How important is a great house reef to you and your family?
Many resorts have an excellent house reef meaning you can snorkel amongst colourful fish and turtles right from the beach at the resort. Other resorts have no house reef but all resorts can access a good reef via a short speedboat ride. There is something special about your 5 year old being able to put on his goggles and pop his head under water at the resort beach and be surrounded by a myriad of colourful fish.
4. Children's Activities
Some resorts are completely set up for children with their happiness the priority.  We have been to some resorts where every buffet has a dedicated children's section where pint sized travellers can help themselves to miniature versions of grown-up delicacies. One fantastic resort we went to this year had the most amazing family activities organsied for Easter, such as Beach Olympics for the whole family, sideshow ally, roaming complimentary gelato stand and a scavenger hunt every morning with fantastic prizes.
5.  Budget
You can get a true Maldivian experience on any budget because almost all the resorts offer the picture perfect postcard experience with white sand, clear aqua water and overwater villas. When considering budget we look for VALUE.  What are the inclusions? Half and full board are extremely valuable inclusions because food prices are sky-high in the Maldives.  If a resort offers packages such as complimentary seaplane transfers, a spa treatment and full board then they automatically move up the list of possible islands we choose from as these things can really tip your total spend over the edge and it's not a nice way to end the holiday of a lifetime with a shocking bill on checkout!
Read our reviews of the top luxury resorts in the Maldives on www.luxefamilytravel.com.au and follow our journey on instagram www.instagram.com/luxefamilytravel