Want to know where to stay in Singapore with kids? For a Singapore holiday or an international stopover, the tropical, family-loving Shangri-La Rasa Sentosa is where you want to be.
Singapore is a dazzling, energetic playground with so much to do and see for families. An international hub with a huge breeding expat population means there's always something going on for kids in Singapore – super playgrounds and water parks, evening laser light shows over Marina Bay, art exhibitions, forest adventures and ziplines, interactive installations and kids concerts.
My best friend lives in Singapore so we've visited this fabulous city many times but we have never stayed island-side – Sentosa Island, that is.
Just 15 minutes from the city, Sentosa is an island of adventures and luxury resorts where you can rest, relax and then plot ways to extend your holidays so you can stay for longer. It's the home of Universal Studios, KidZania, Resorts World, a cable car and luge and so much more – and it's so close to the city you can duck over and back as much as you like. Staying in Sentosa with kids is perfect for the whole family.
When the Shangri-La Rasa Sentosa Resort & Spa Singapore invited us to spend two nights with them we were super excited. We love a little luxe now and then, and Emmie knows that the Shangri-La means waterslides and the ultimate in kids clubs at the Shangri-La's Adventure Zones – as well as comfy beds, soft pillows and caring staff.
We caught a taxi over to the island after a decadent Easter bubbly brunch at the Fullerton. Unfortunately that meant we missed the resorts' Easter activities for kids during the day, which like everything the Shangri-La does was amazing, with a super egg hunt around the grounds, a visit from the Easter bunny and an evening talent show.
While there's a fee to enter the island, the Shangri-La will send you a voucher to show at the toll booth as you enter the island or you can take the courtesy shuttle bus. It's so easy, before we knew it we were checking in and being shown to our room overlooking the pools.
It was divine – and we had a super yummy welcome of delish fruit plate, macaroons and chocolates waiting for us. Thank you Shangri-La Rasa Sentosa, you know the way to my heart.
The resort
The Shangri-la Rasa Sentosa is a beautiful beach-front resort just steps away from Siloso beach and facing the South China Sea. Although the resort boasts more than 400 rooms its configuration means that it never seems crowded, even when it's at capacity as it was when we stayed.
That's probably because there is so much to do across the large grounds, with a huge swimming pool, lots of grass area and gardens, kids waterslides, water play area and playground. It's just a short walk from the Sentosa bridge, the cable car, trapeze and beachfront restaurants and activities.
Our room
Rooms at the Shangri-La are always beautifully appointed and the Rasa Sentosa is no different. A huge king bed with a sofa lounge set up for Emmie – so perfect for mum, dad and one or two kids.
We had a huge balcony overlooking the pool,  beach and the tropical palms with a outdoor sitting area. Looking up at the bulding was really breathtaking – the design is so smooth and the white against the bright blue sky is mesmerising.
Our bathroom had a shower and bath  – I love having a bath – and the lovely Shangri-La toiletries and fluffy towels. Louvered windows open out from the bathroom to give you a view right across the rom to the pool…and palms
The one problem with the rooms at the Shangri-La is that you never get to spend enough time in them because there is always so much to do – even if it is just laying by the pool. But this time (and owing a little to the free-flow champagne brunch) we decided an evening in was the way to truly experience our gorgeous room.
So we settled back, found the Kids channels on the TV and dialled room service.
In-room Dining
It's perfectly okay, in my opinion, to spend down-time in your room when you've living the fancy life. Why not? When you're in the most comfortable room, with multiple TV channels, soft comfortable bed and pillows and a phone right next to the bed that connects you to anything you could want it's nice to indulge. It would be wrong not to, right?
So we did. Ordering burgers for dinner – and while a little more expensive in comparison to other Shangri-La's in-room dining – they were honestly the best burgers we've ever had. Sometimes pure bliss is munching on a delicious burger while watching the box.
Tripizza
We also ate at Tripizza, a fabulous restaurant on Siloso Beach with a kids play area – and soon to have a kids splash zone. It's right next to the beachside trapeze, hence the name 😉  The meals were fabulous. We had chicken wings, gourmet pizza and salad and it was all delicious. It's a great spot to chill by the beach while the kids are entertained at the play area.
Breakfast
Em declared the Shangri-La Rasa Sentosa as having the best kids breakfast of all the resorts she has stayed at – there's a Kid Zone breakfast section that is a child's brekkie dream with kids cutlery and dining sets and everything set nice and low to the ground so they can feel grown up while serving themselves.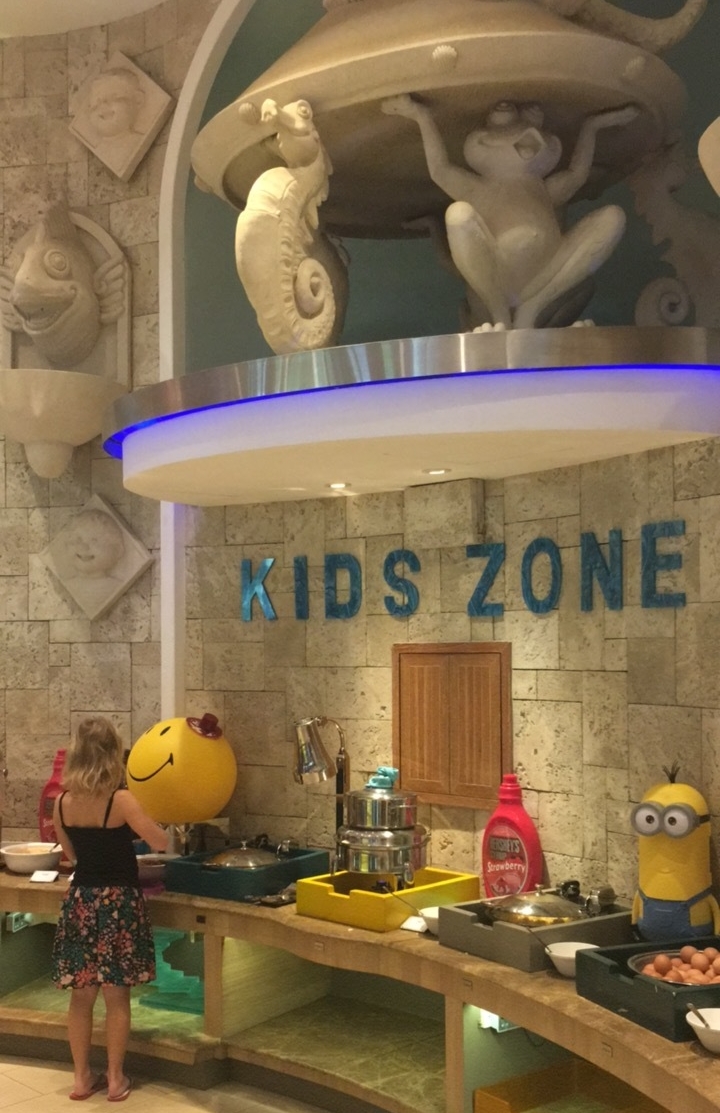 Seating is so efficient at breakfast – hosts lead the way with puppets on their hands for kids to follow, and ballroom makers are stationed outside to keep children entertained. It's busy but it's all so spread out you don't even notice. And there is so much delicious food – plus a gluten free section which is unreal and just another example of the Shang's fabulous attention to detail.
The Shangri-La Rasa Sentosa takes mealtimes with kids to a new level – we've found that all the Shangri-La's we've stayed at have individual initiatives that make life so much easier for families traveling with children. And the Shangri-La Rasa Sentosa was no different- not only does it have a special children's section at breakfast but it has a fridge stocked with baby food for mums and dads to access (it's locked to keep the food safe but staff member will open it for you).
For kids
The waterslides were the biggest drawcard for Emmie, and she was super happy with what she found. The cool zone waterpark has three three slides that wrap around a rocky tropical jungle and pop out into a shallow pool covered with shade cloth. The water park right next to it has fountains and soft floor to run around on. There are life guards on duty – very important to me and most families I'm sure.
The huge swimming pool is surrounded with lounge chairs for the adults and has so much for kids to do, like shooting goals joining in the pool activities. While we were there Emmie played ball games and ran along those long matts across the water. There are lots of activities, music and fun for kids all managed by responsible Shangri-La staff
I love that the water is really soft and not harsh on children skin and eyes – it's because the Shangri-La uses a special water technology that keeps the water soft and non-harmful for little bodies.
If your kids don't feel like going in the water there's a playground near the beach and of course the Toots Club with a huge tree house slide right down the middle. It's for children aged 5 – 12 and is open each day from 9.30am to 9.00pm. Mini Toots Club is for accompanied children under 5 years old and there is also a Fun Zone with electronic games like Xbox.
There's a table tennis table just outside the club and foozball too, and on Sunday's a children's garden party has lots of fun activities for kids to join.
It's so easy to lay by the pool while kids play and make friends and join in all the group games. The beach is also lot of fun for a swim and a play on the sand, or hire kayaks and go for a paddle. If you wander around to the right you can look over the port and catch a beautiful sunset.
For everyone
There is so much to do from pool games and swimming lessons, jousting and beach volleyball. You really need around five days here to experience everything and relax and enjoy the pool and luxury as well as popping over into Singapore city to explore and eat.
You can check out prices here.
Have a great time!
We stayed at the Shangri-La's Rasa Sentosa Resort & Spa as guests of the resort.