A trip up to the top of Taipei 101 is a must when you're in Taipei. We combined our visit with a walk up Elephant Mountain in the morning so we got the best views of Taipei 101 and from Taipei 101 in the one day. Taipei is really fabulous for families – you can read all about our adventures here.
Taipei 101 is Taipei's tallest building, and up until 2010 it was the world's tallest building until overtaken by the Burj Khalifa. Inside are offices and fancy shops, restaurants and Observatory – our favourite spot in Taipei 101 apart from the top was of course Din Tai Fung! Treat yourself before or after your visit to the top.
Taipei 101 prides itself on being the second tallest building the world and is the tallest environmentally friendly building the world. Its elevator speeds skyward at 60.6 km/h and takes passengers from the 5th to 89th floor in 37 seconds!
It's a gorgeous silver blue spear flashing skyward, visible from across the city, a sparkling and beloved landmark.
Tickets:
You can book tickets online or on the day. Just be mindful that there may be queues so get there early if you're booking the day (you can only book online 24 hours before). You can get tickets for any time the day – I suggest going up at around 4 – 5pm so you you can hang around and get to see daylight, sunset and night-time from the building. We were in the queue to go up to the tower at 9am when I realised this and so we changed our tickets, went to breakfast at Luigis downstairs – super delicious waffles with chocolate icecream, strawberries and blueberries –  climbed Elephant Mountain – in our thongs, totally doable –  had dinner at DinTai Fung and then went up into the sky.
Getting there:
Getting there is so simple as Taipei 101 has its own station – just take the red line to Taipei 101. Then take the elevator to 5F to buy your tickets, or if you have your tickets you can join the queue for the elevators here.
Queuing:
The line moves pretty quickly, even though it can look super long. Like everything in Taiwan it's super friendly and efficient, You'll have a chance to pose in front of a green screen for a shot tourist pic, or you can do one like this at the top like we did but you will have to lie on the floor!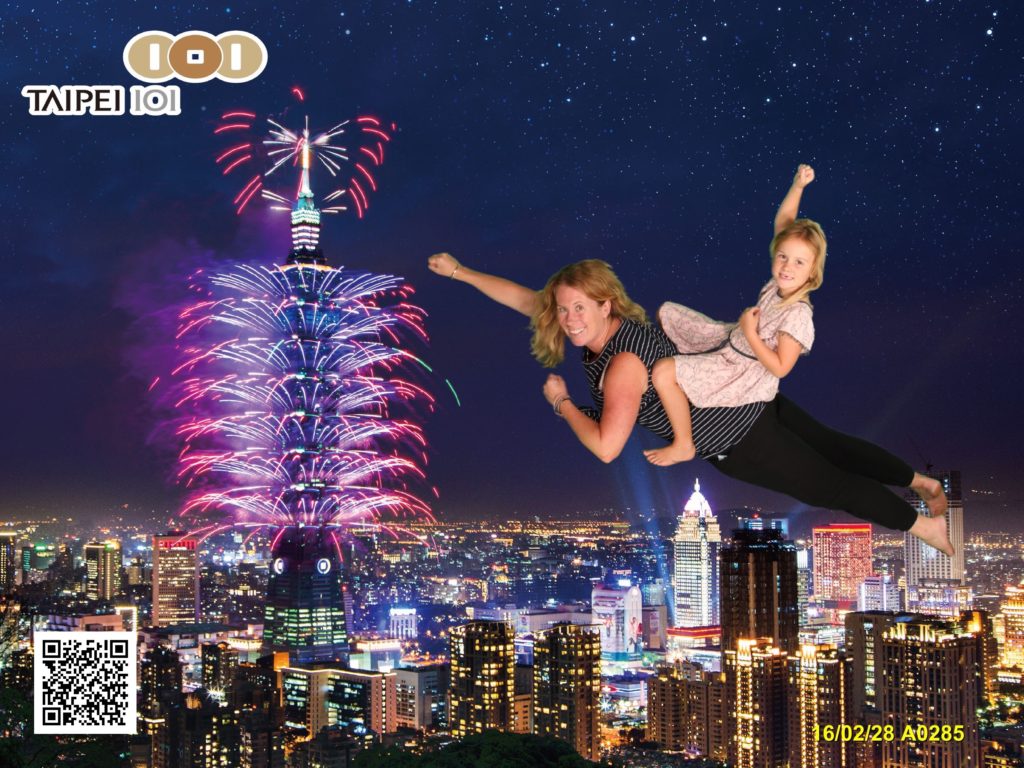 Oh yes we did!
At the top:
Once you're at the top you have two floors of indoor observatory- levels 88 and 89 – and you can climb outside to the outdoor observatory on level 91.
Make sure to check out the $4million dollar tuned mass damper – it's a pendulum that provides structural security by swaying to offset any imbalances in the building causes by gusts of wind or earthquakes. So amazing.
We love Taipei 101. In fact we love Taipei!
Read all about why you should take your family to Taipei and also about the loos at the metro – haha they're fabulous, and there are breast feeding rooms everywhere. Amazing.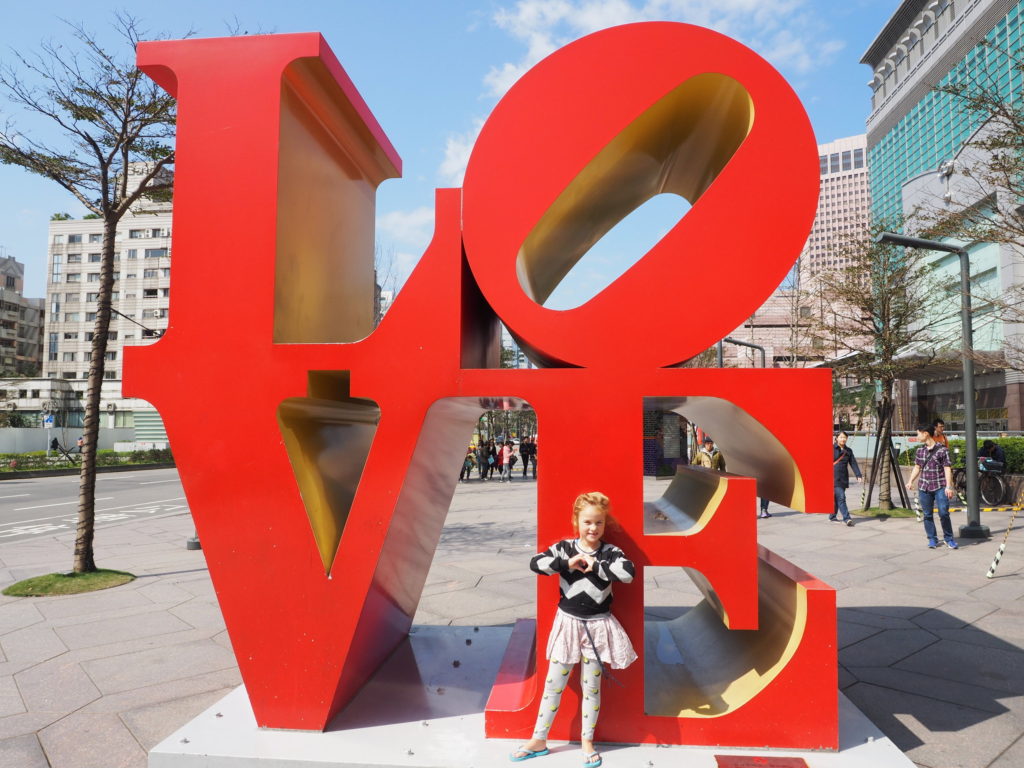 We love Taipei and we love Taiwan!