This is one of my favourite weekends and I hope you can join us in March to experience it for yourself with your kids. As well as swimming with turtles and other marine life, we may be lucky enough to see turtles hatching!
Swimming with turtles! Spotting mantas and reef sharks and learning all about our precious marine environment from marine biologists who work on the island. It's an amazing experience to arrive on this pristine island and within minutes be in the water, swimming with turtles and reef sharks and just enjoying being a part of something so incredible – our underwater world.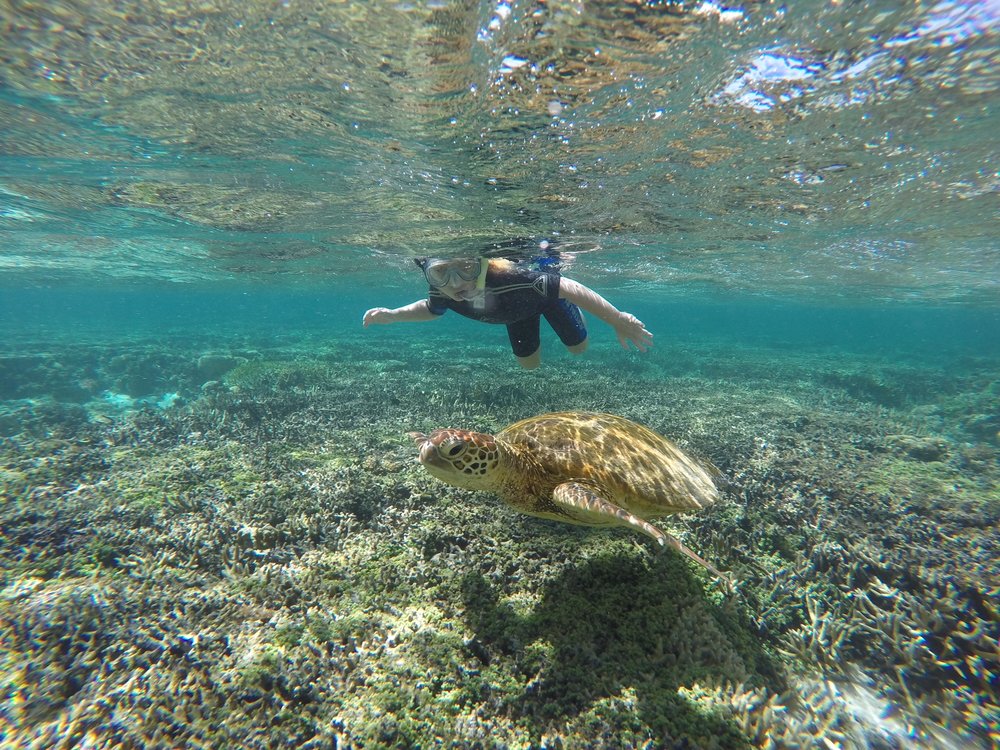 Emmie and I have visited the island three times and we just adore it. Every visit has shown us something new – last time we swam along a feeding line of around 15 manta rays, we spotted sharks and rays and of course, swam with so so many turtles.
Dates:
It's from FRIDAY 2 MARCH to SUNDAY 4 MARCH however you can add a night – we will probably arrive Thursday 1 March.
Accommodation:
To keep prices down we are looking at staying in eco cabins which are really nice and Emmie and I have stayed in them before. They have four bunks and shared bathroom facilities – but you can stay in your own garden or reef room – just let me know and I'll get the price for you.
Price:
Price includes:
Two nights in an eco cabin
Flights from Hervey Bay, Fraser Coast and Bundaberg.
Full Bufet Dinner and Breakfast
Use of Snorkel Equipment & lesson if required
Combined Glass Bottom// Guided Snorkel Tour
Guided Reef Walk (on low tide))
Guided Bird Tour (in season))
Guided Turtle Nesting & Hatchlings (Nov – Apr))
Whale Sightings (June to Oct))
Island Tours – see official website for details
Environmental Management Charge
Adult Twin or triple share:            $660.00
Adult Sole Use:                              $810.00
Child (3-12 years):                          $335.00
Please note flights ex Coolangatta or Redcliffe additional $389 per adult and $224 per child.
And you will need to get yourself to Hervey Bay or wherever you will fly in from – best to get there the night before so you can get on the early plane!
You can learn more about this amazing island here. 
If you're keen please contact me on the form below. We need to book by 22 November to secure the rooms!
Evie