After spending most of the last two years in Asia, Emmie and I were keen to explore more of our own backyard and so we jumped at the chance to check out Tropical North Queensland for a few days in our very own wheels-for-hire as guests of Tourism Tropical North Queensland and JUCY.
We flew into Cairns and after picking up our car from JUCY we were off. There was heaps of room and it came with a GPS, some chairs for setting up and just watching the world, plus a portable DVD player for Emmie. JUCY has lots of different styles of road trip vehicles – the campers look amazing and are definitely on our list to try next time. Their new model, the Champ, has a pop up top for sleeping and the inside converts to a bed too, plus it has a little kitchen in the back.
With a camper you can stay at the many caravan and camping grounds around the Tropical North, or you can find spots to free camp. For us it was a car, cabins at the Big 4 Atherton Woodlands Tourist Park and a fabulous stay at Castaways Mission Beach Resort & Spa. However you'd like to travel – there are options for all.
Tropical North Queensland is very special. The diversity of landscape and nature within such a small area means that a short driving holiday of four – five days is entirely possible. Of course you'd want to spend more time here, and that's exactly what we plan to do on our next visit. But with a few days you can see so many waterfalls, sugar, banana and tea plantations, spectacular sunrises and soft fading sunsets, Gallo Dairyland, snorkel the reef with Mission Beach Dive, spot kangaroos, platypus and other wild natives, visit Paronella Park and swim in rivers and creeks.
The beauty of a self drive trip is that you can stop whenever and wherever you like – like we did here when we found a little river to jump into on our drive to Mission Beach. We just pulled the car over, chucked on our cosies and in we jumped.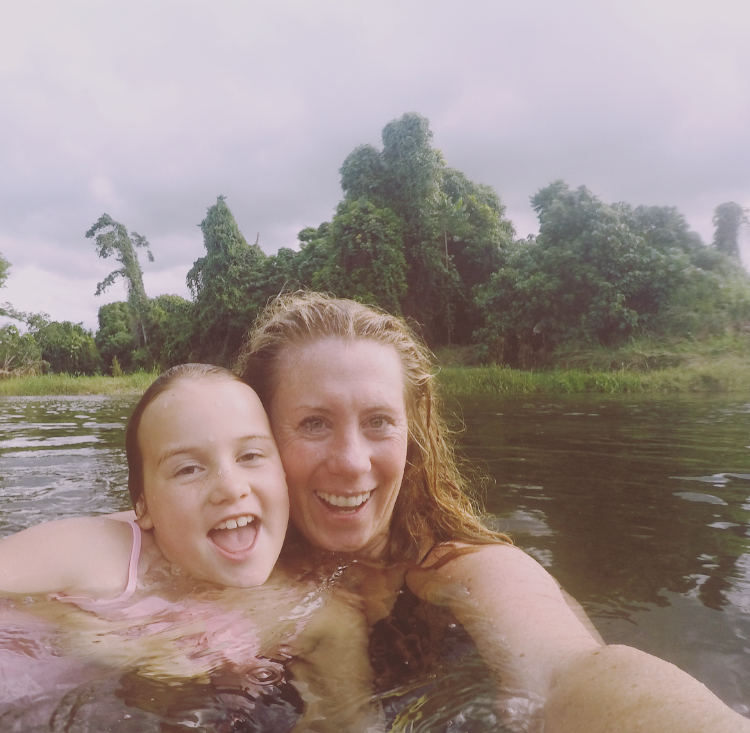 Our highlights were many as our three days in Tropical North Queensland was filled with awesome adventures. But here are our top spots to adventure in on a family holiday in Tropical North Queensland.
Snorkelling on the Great Barrier Reef
This was always going to be a treat and the trip with Mission Beach Dive was a great introduction to the Great Barrier Reef. We've spent time on the southern Great Barrier Reef but this part of the reef was entirely new to us. Our cruise stopped at two snorkel spots where we had around an hour each time to snorkel, dive and explore the reef. We were lucky to spot a turtle and a huge black-tipped reef shark and we snorkelled and swam around for hours. We had a fab BBQ lunch on board and a really nice day out.
Atherton Tablelands
This area of Tropical North Queensland has such beautiful scenery – the rolling hills of greens of the sugar cane and the huge leaves of the banana palms on the banana plantations, mountains and golden sunshine. Driving is never difficult in the Tropical North, there is so much to see and so many places to stop while you're traveling around.
Kuranda Original Rainforest Markets
We loved these markets – especially the awesome mini-golf course that was only $5 a turn. There is lots of yummy food to try like local gelato, falafel and fresh juices, and food stalls and local products to buy. You travel up through the winding roads lined with rainforest to these markets and it's a really pretty trip with fun for everyone at the top.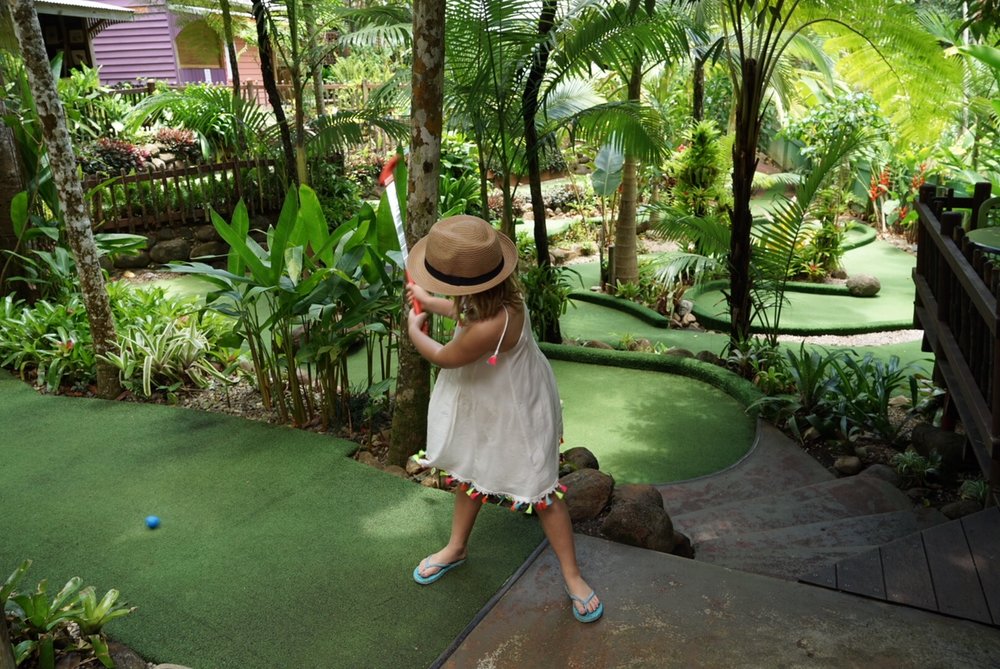 Waterfall loop, Emerald Falls & Josephine Falls
If you love waterfalls like us then Tropical North Queensland is your place to be. The Millaa Millaa Waterfall loop showcases five amazing waterfalls while Davies Falls and Emerald Falls are definitely worth a visit – Davies doesn't need much hiking whilst Emerald has a bit of a walk to get there.
Our fave was definitely Josephine Falls not in the least because we chatted with friendly locals who pointed out little yabbies in the water at our toes. We had our own little waterhole under the falls and we swam and chilled in the sun. We could've spent many more hours here and it's a must do – even the walk in is something special with a wander through a beautiful lush rainforest to get there.
Food at Petals and Pinecones in Atherton, and Bingil Bay Cafe
These cafes are super yummy and worth a stop to refill and relax. We drove along the coast from Mission Beach to get to Bingil Bay Cafe for breakfast, stopping off at the local weekend markets to check out the produce and local crafts, and at a couple of beaches and a jetty for some sticky-beaking. Coffee was delicious, the vibe is very free-range and ethical and the beans hotpot was my absolute breakfast winner.
Petals and Pinecones is one of those amazing cafes full of flowers and trinkets and with a menu that includes the infamous milkshakes full of treats. It's a really beautiful spot to stop and get a sugar fix in the prettiest of locations.
Stopping whenever and wherever you like
One of our favourite things to do is to stop whenever we like, like at this old house and the fields across the roads with a great view up the mountain.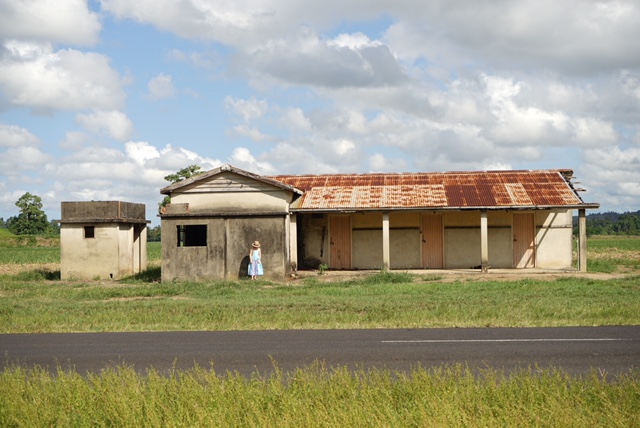 here are so many beautiful spots to stop at, enjoy the view and snap a couple of pics.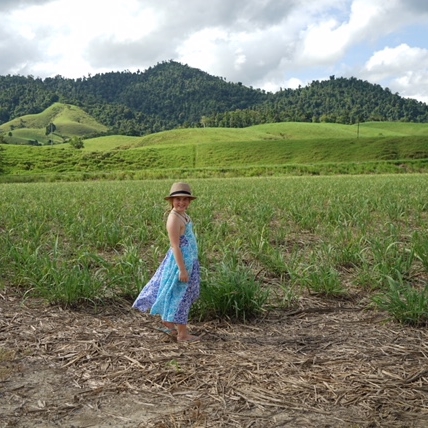 Isn't it gorgeous!!
River swims
We were driving along after our visit to Paronella Castle and had been feeling the heat when we spotted a river and decided to go for a dip. River swims are so much fun, especially when they are impromptu…after a while a few kids wandered down and it was just so nice to be swimming around in the river with locals.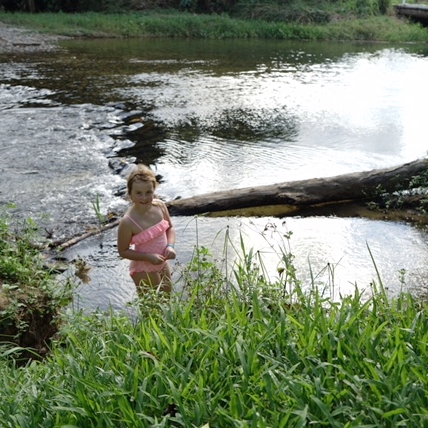 Gallo Dairyland
Gallo Dairyland is an award winning local dairy in the Atherton Tablelands that was started in 1937 and is still family owned and run. You can stop in for a farm tour and sample their yummy cheeses and chocolates. Swiss scientists helped develop the cheeses produced here, including lactose free camembert, award-winning tiles and my favourite, the macadamia softie.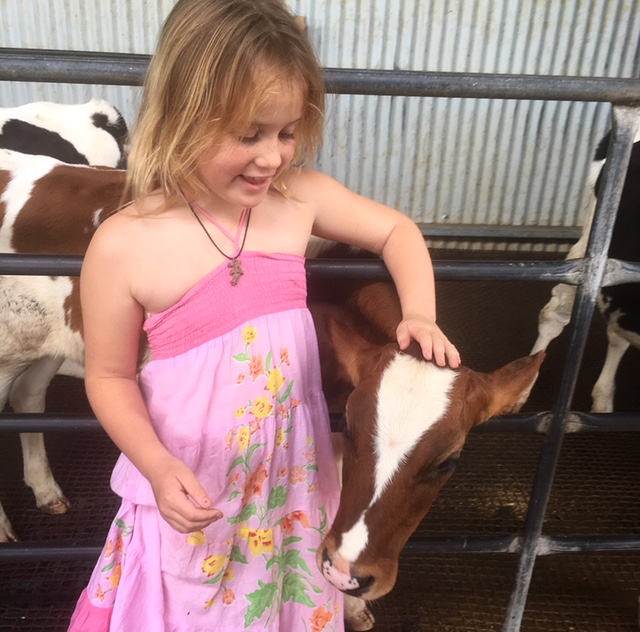 Big 4 Atherton Woodlands Caravan Park
This Big 4 caravan park was such a great place to stay. Lauralie at check in was so nice and helpful and they have homemade platypus activity books for kids which is so sweet – plus drinks and discount vouchers at the local pub and other stores around town. The park has a swimming pool, kids play area and if you're lucky you can spot platypus in its creek. You can also spot them just down the road at Yungaburra where eagle-eyed Emmie saw a bill and a splash.
Fun fact:
JUCY customers get a 10% discount at Big 4 caravan parks
The Curtain Fig Tree
This giant fig is pretty amazing with its curtain of branches hanging down from its huge, tall trunk. There's an easy pathway to follow to the viewing platform at it's definitely worth stopping for.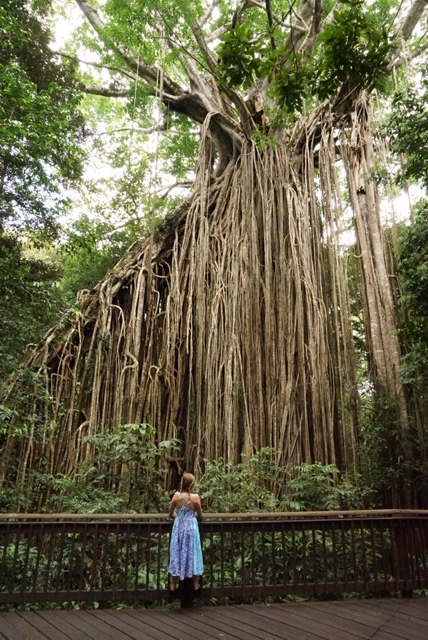 Mission Beach
Mission Beach is so beautiful. This coastline is lovely – it has amazing sunrises and catches sunset too, and it's so laid back.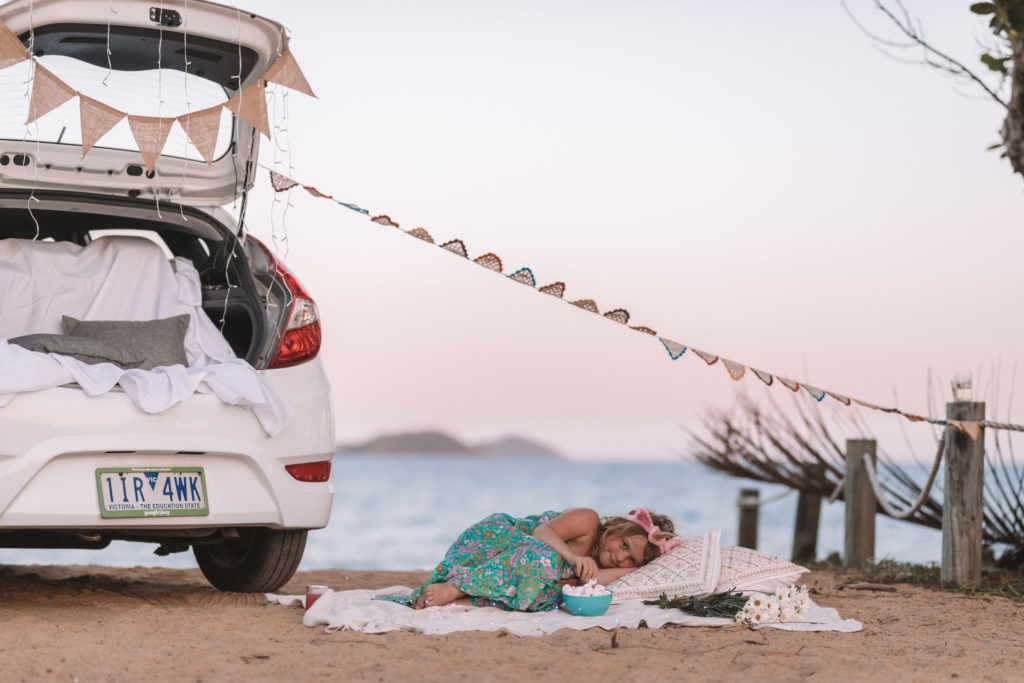 It's your jumping off point for Barrier Reef cruises but is a destination in its own right for its beaches, cafes and restaurants and really it's just a great place to relax and enjoy the beach and nature.
Castaways Resort
We were lucky enough to stay at Castaways Resort at Mission Beach for two nights and it was so amazing. The rooms look out over palm trees to the ocean and Great Barrier Reef. Our apartment had two rooms, one with a double and one with two beds for kids, as well as a big bathrooms and kitchenette – just perfect for a traveling family. There are two swimming pools, the restaurant was amazing – best steak I've had in a long time – and it's such a great spot to rest, enjoy the sun, the pools and the beach.
This was just our little taste of Tropical North Queensland with Tropical North Queensland and JUCY World – thank you so much for having us. We can't wait to come back.